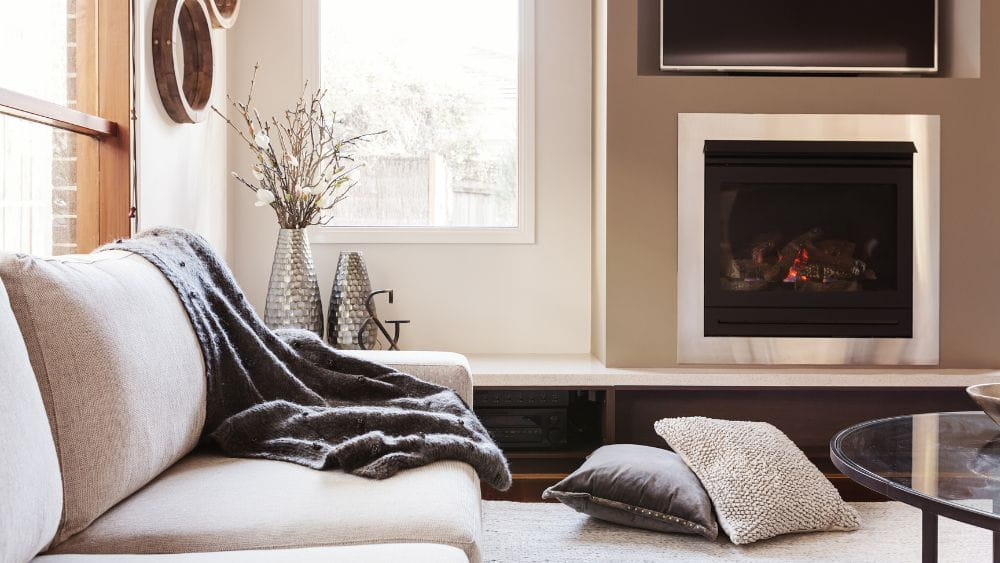 Create a snug lounge for winter
Feeling the chill? Get snug as a bug this winter with a lounge makeover. While home improvements can sound expensive, we've rounded up our favourite budget-friendly ways to transform your space into a cosy haven. Think warm colours, gold tones and rich textures. So, get snug, grab your favourite blanket (and maybe a glass of red wine) and read on. From simple tips to strategic splurging, we've got you covered.

Photo: Jessicka Williams
Art on any budget
There are many quick ways to bring art into your home, from memorable family photos to gorgeous woven hanging tapestries. Our favourite budget-friendly idea is framing your photos and arranging them together on a picture rail shelf, such as this one from Kmart, or creating a gallery wall to add a unique and personal touch to your space.

Another easy update is to create your own artwork using paint test pots from a trusted paint supplier such as Resene - their test pots start from just five dollars each.
If you're feeling creative, print black and white family photos and paint the frame mats in complementary colours with the test paint pots to fit your decor.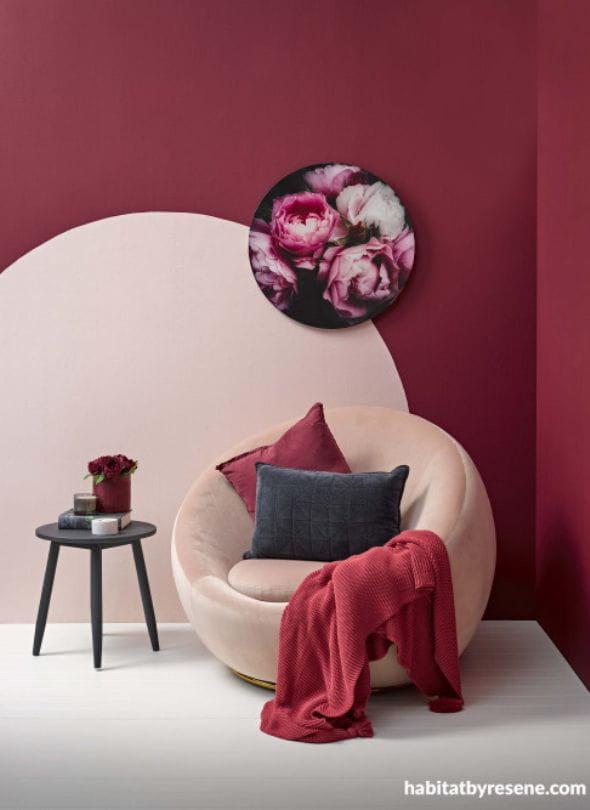 Photo: Habitat by Resene
A lick of paint
It's incredible what a coat of paint can do. Rich greens and reds are trending at the moment and used as a feature wall or paired with neutral décor, they're a great way to bring a bit of winter luxury into your lounge.

Feeling bold? Create a snug reading nook using Resene's Pohutukawa as the main colour - pair this rich red with a touch of Resene's Dust Storm, a blush pink that softens the deep red and conjures a luxurious and romantic space. Contrary to the old opinion that red and pink should never be put together, this colour scheme can feel comfortable and relaxing, especially when paired with floral artwork, soft blankets and a pink velvet chair.

Using bold paints in smaller areas like a reading nook can be a great alternative to painting the whole room - some may find an all-red lounge overstimulating. Less is more, especially in deep shades, and an accent wall or strategic block of colour can often be more effective (and more relaxing).
Consider painting one feature wall, a background for your gallery wall, or an alcove for a bold update.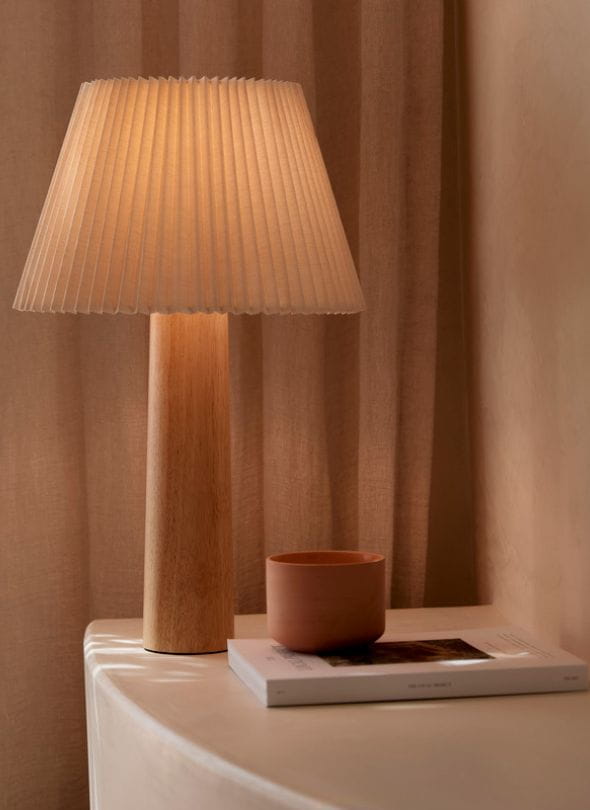 Photo: Freedom Furniture – Joshua Table Lamp
Light it up
Winter brings shorter days and longer nights. You can make sure your lounge feels brighter by adding cosy lighting. Switch out bright light bulbs from white to yellow light; this gives a warmer feel and brings a sense of relaxation to the space.
Add tabletop lamps, floor lamps or even pendant lights to create a warmer feeling space.
If you already have lamps, updating the lampshade can be a quick, low-cost change with a significant impact.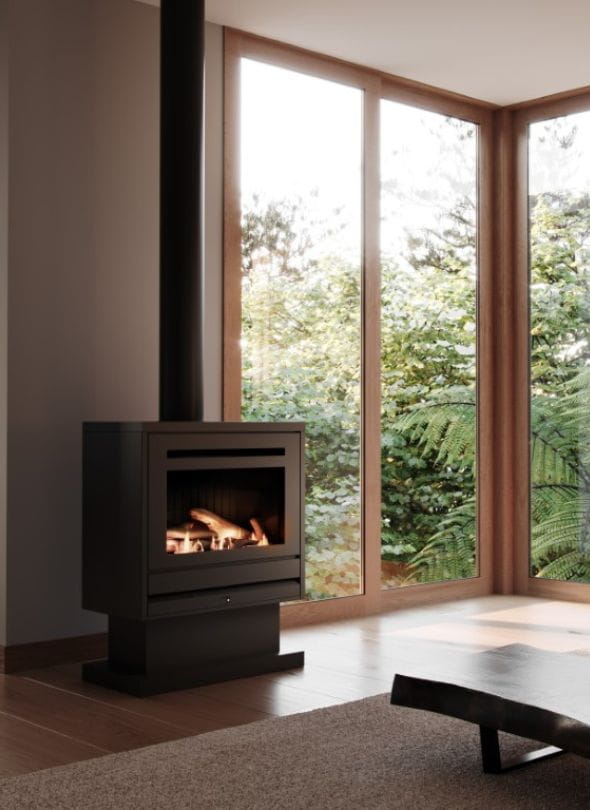 Photo: Rinnai
Feeling hot, hot, hot
Perhaps the most luxurious lounge investment is your heating option, investing in good heating can last for years, perhaps even saving you money in the long run. An essential to battle New Zealand winters, heating can make a huge difference to the cosiness of your room. From compact and economical space heaters to flame-effect fireplaces and whole-home central heating and ducting, there are plenty of options when it comes to gas. A gas fireplace is sure to make a real statement and create a cosy lounge all year round.
Suppliers such as Rinnai have a great range of built-in and freestanding gas fireplaces to choose from, and they are all manufactured right here in New Zealand. Your gas fireplace will quickly become the focal point of your luxurious winter space.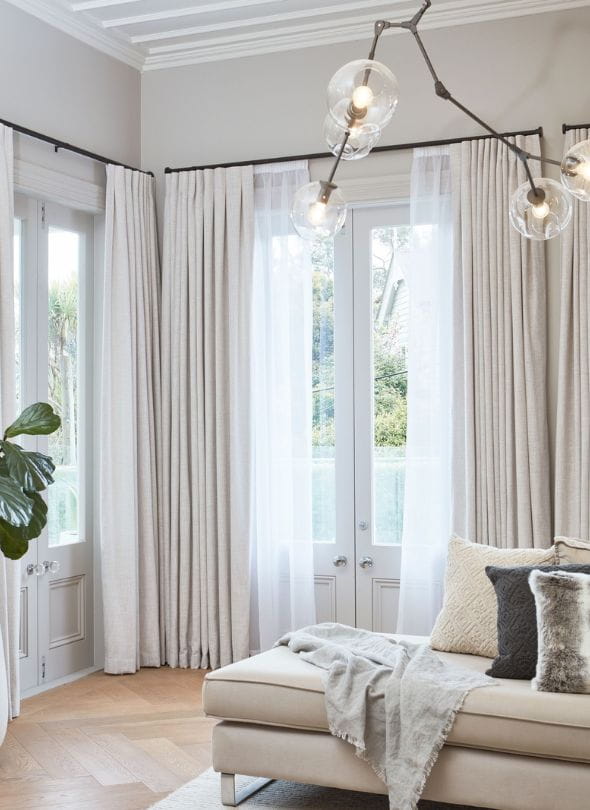 Photo: Curtain Studio
Curtains that complement
Accessorising with curtains can elevate the style of your lounge so it pays to think about how you dress your windows to complement your living space. If you're lacking a little colour in your lounge, bold and brighter shades add vibrancy without the need for painting, or you can bring some personality to your space with prints and textured fabric. Alternatively, neutral colours create a soothing interior and can bring a calming effect. If you're looking to make your living space appear bigger, hanging curtains at least a couple of inches above the window frame can help. Places such as Curtain Studio and Freedom Furniture have great curtain options to suit most budgets.

As well as adding the finishing touch to your lounge, curtains are a practical way to keep the heat in during these colder months, particularly if you opt for a thermal-lined fabric.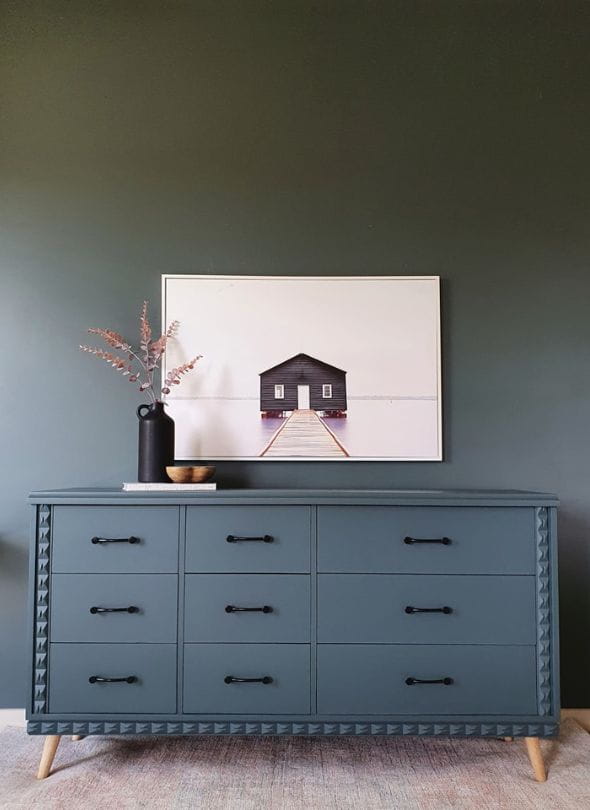 Photo: Via Blue and White Refinishing on Facebook
New lease of life
Budget items can sometimes appear as luxury buys with clever refurbishments like a simple repaint. Follow our tips for upcycling and get your creative juices flowing! It's amazing what a rich colour can do to a piece of furniture that would have otherwise sat wasted because it looked outdated. A coat of paint, new handles and some new legs can bring a piece back to life and create more storage in your lounge.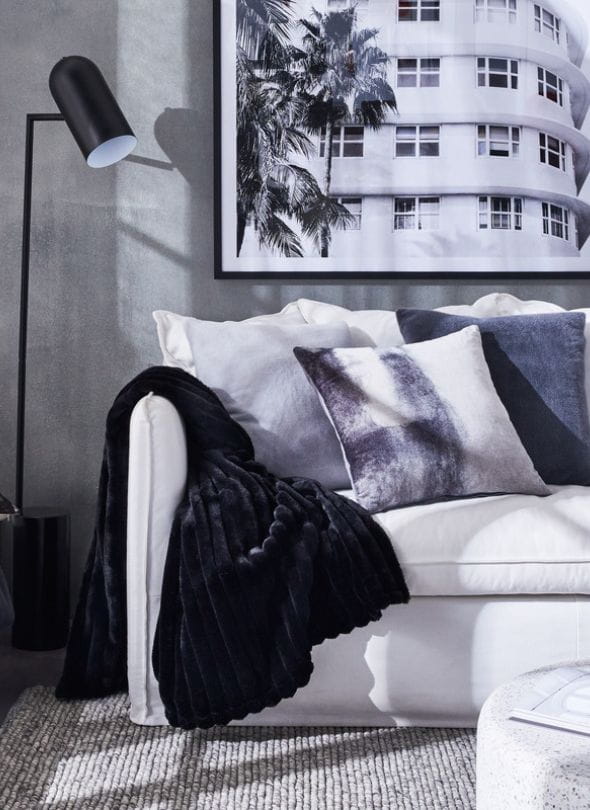 Photo: Freedom Furniture
Throws, cushions and rugs
A simple décor change can sometimes be the most effective - adding a new throw on your sofa, switching up the cushion covers or adding a new rug can be all you need to feel like a bit of luxury has been added to your space. Using textures like velvet or faux fur, even combining a few different textures can create a cosy winter feel. We love the ranges of soft furnishings such as throws, cushions and rugs available from places like Kmart, Spotlight or even Freedom Furniture that create a feeling of cosiness.
Creating a luxury winter lounge on a budget is easily achievable with imaginative thinking and strategic splurges. Focus on soft textures and warm lighting, and seek out budget-friendly pieces.

So, get ready to curl up with a good book by the fire and enjoy your winter haven!
Ready to connect?
Check out the connection process, to know what choices you'll need to make as part of getting connected to natural gas.
Submit your natural gas connection application today. Our customer team will then ring you to confirm a few more details and progress your application.
Want to know more?
If you've had a good look around our website and still have questions let us know what you'd like more information about.