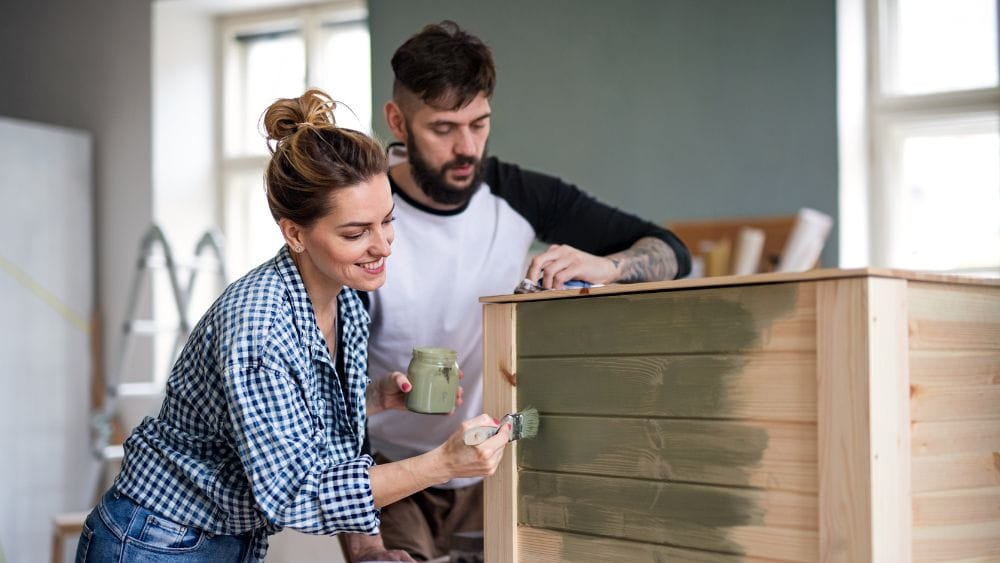 Upcycling to spruce up your home
We all know about recycling - but upcycling has been trending over the past few years! It's exactly the opposite of recycling - you take your trash, and you turn it into treasure!
It could be for your home or even as a side hustle! It can be a simple and thrifty way to take an old worn-down piece of furniture and transform it into something fresh and new. With most using Facebook Marketplace to buy and sell items these days, you can find your next bargain or list your upcycled treasures and make a profit either for yourself or towards your next creation - win win!
To give you some inspiration, we've collected some examples from creative Kiwi's. You may have some of these items around your home - some things you were thinking of getting rid of but might actually be hidden treasure waiting to be cleaned up! It's the perfect way to give your décor a wee facelift without spending hundreds! You may even love it more - knowing it was you that saw it from beginning to end.So, let's grab some inspiration from ones who have upcycled some stunning pieces!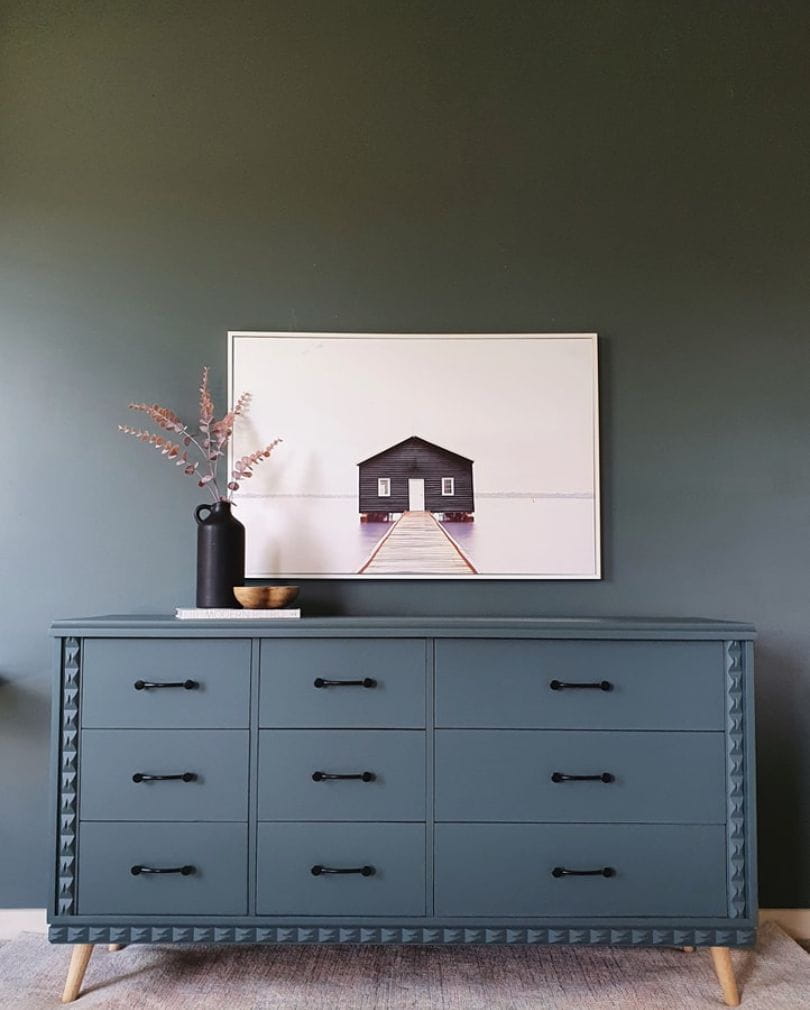 Photo: Via Blue and White Refinishing on Facebook
Okay this is next level… this unique 9 drawer dresser has been perfectly upcycled by Heidi at Blue and White Refinishing. The rich teal is a custom mixed colour and if you ask us is just stunning. It's amazing what a rich colour can do to a piece of furniture that would have otherwise sat wasted because it was seen as too outdated. A coat of paint, new handles and some new legs has brought this dresser back to life. So next time you see a dresser that has potential, make sure to snap it up and bring it back to life like this baby.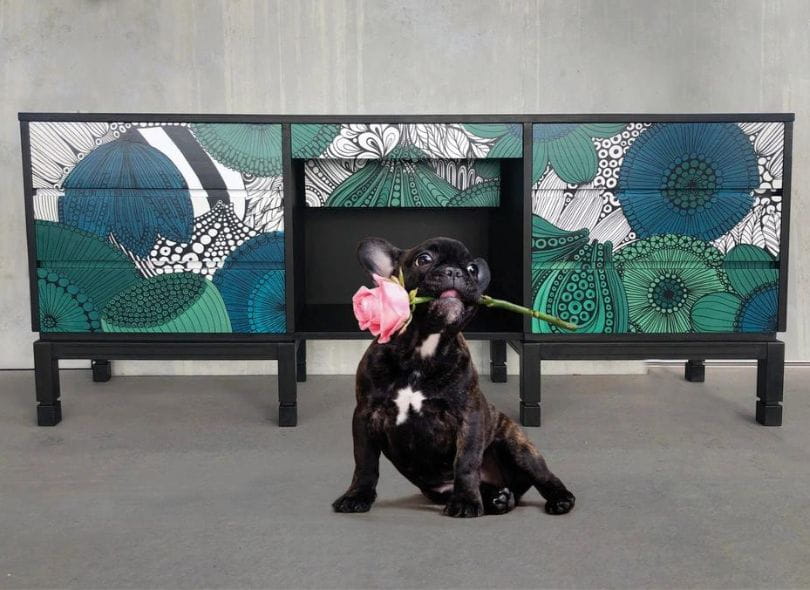 Photo: Byebyelove
We've been fans of Byebyelove for a while. These two creative women know exactly how to take an old piece of furniture and bring it back to life. Heike and Jeanine have made it their business rescuing 'sleeping beauties' from garages, storage units and forgotten corners to be reawakened.

Their stunning pieces are highly sort after, in particular their bold floral designs that give off a Marimekko vibe. Take a look at their Instagram for more bold inspiration or to snap up a piece of your own.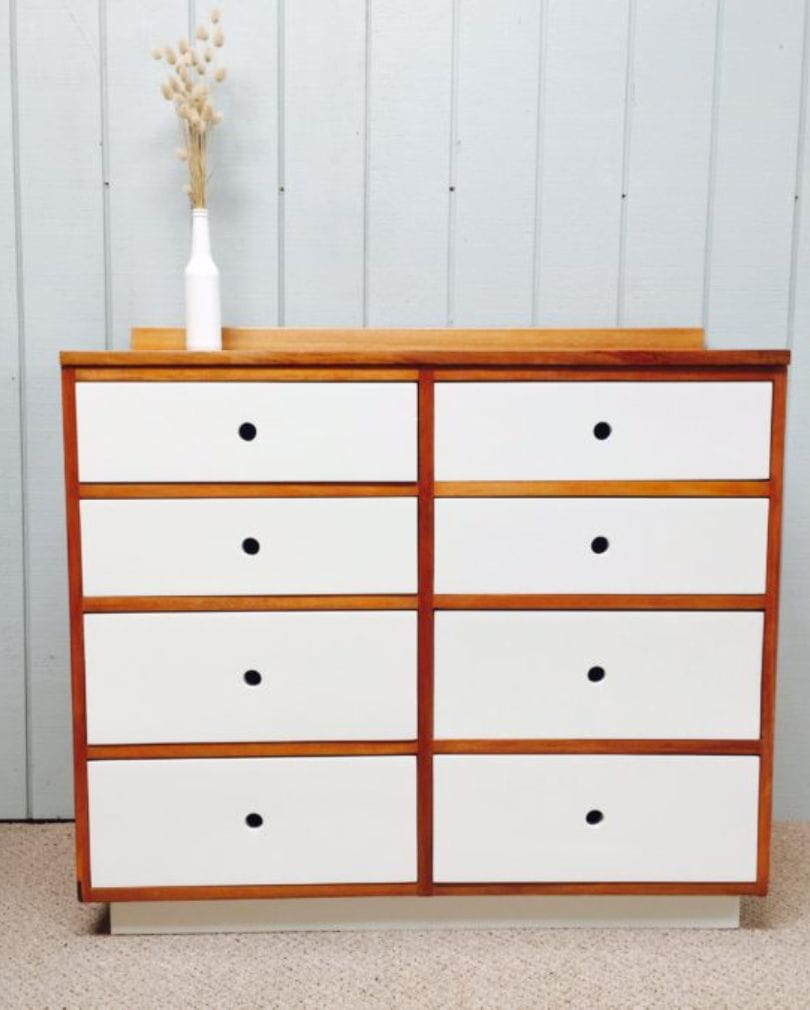 Photo: Industrial Design NZ
Sometimes it's the simple things that make the biggest impact. We love these repurposed drawers from Paul Roest at Industrial Design NZ. A sand, restain and then highlight of the drawers with some white paint is simple yet effective method to bring a piece of old furniture back to life and create a classic piece to last for years.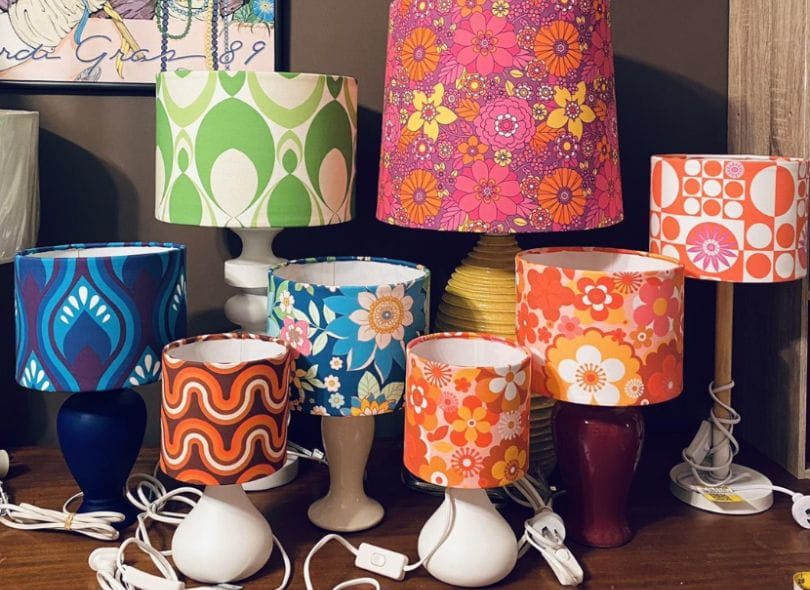 Photo: Via Lulu's Lamps on Instagram @lulus_lamps
Outta sight! Lulu's lamps transports us back to a groovy time. Her combination of new and recycled materials is a super smart use of items that may otherwise sit on a shelf gathering dust or end up in the tip. Fall in love with one of Lulu's creations or hit the op shops to find fabric and lamp base to make your own.
We couldn't talk about upcycling without mentioning one of the most popular upcycles of the past few years – the Kmart rattan furniture line. Although not repurposed from something old, the budget friendly pieces of furniture have been transformed over and over again in many different ways. From a coat of paint and new handles to cutting them apart and putting them back together again there have been hundreds of creative designs using the furniture. Here are a few of our faves.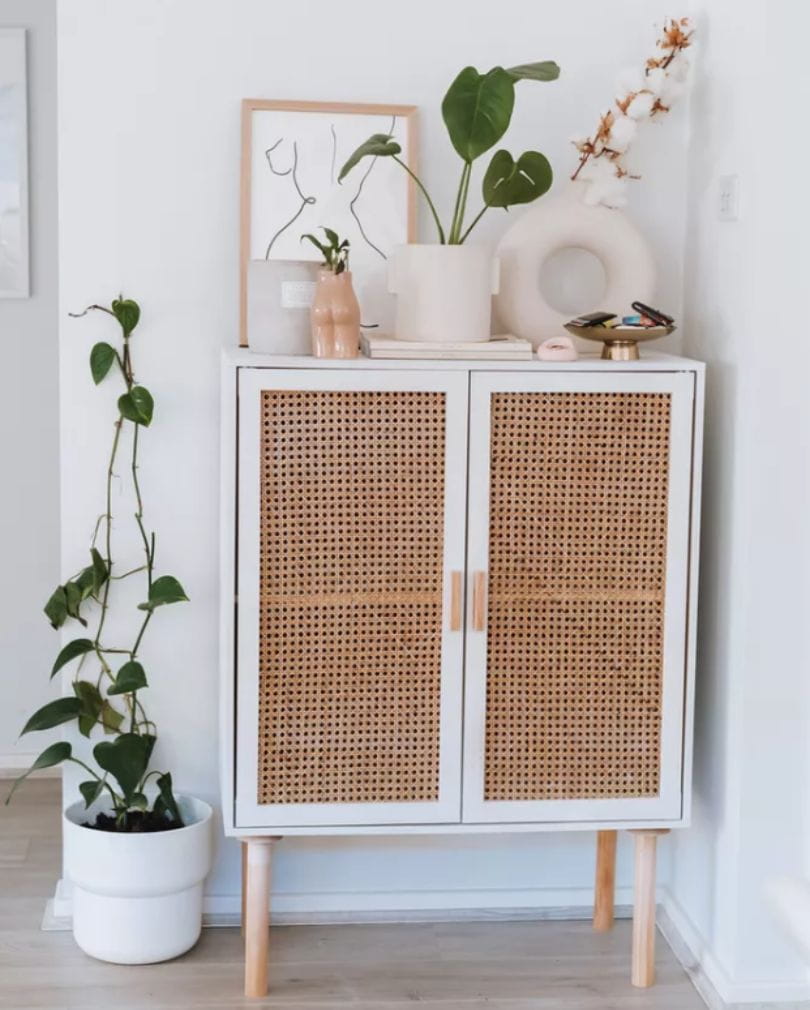 Photo: Via
Bunny Bernice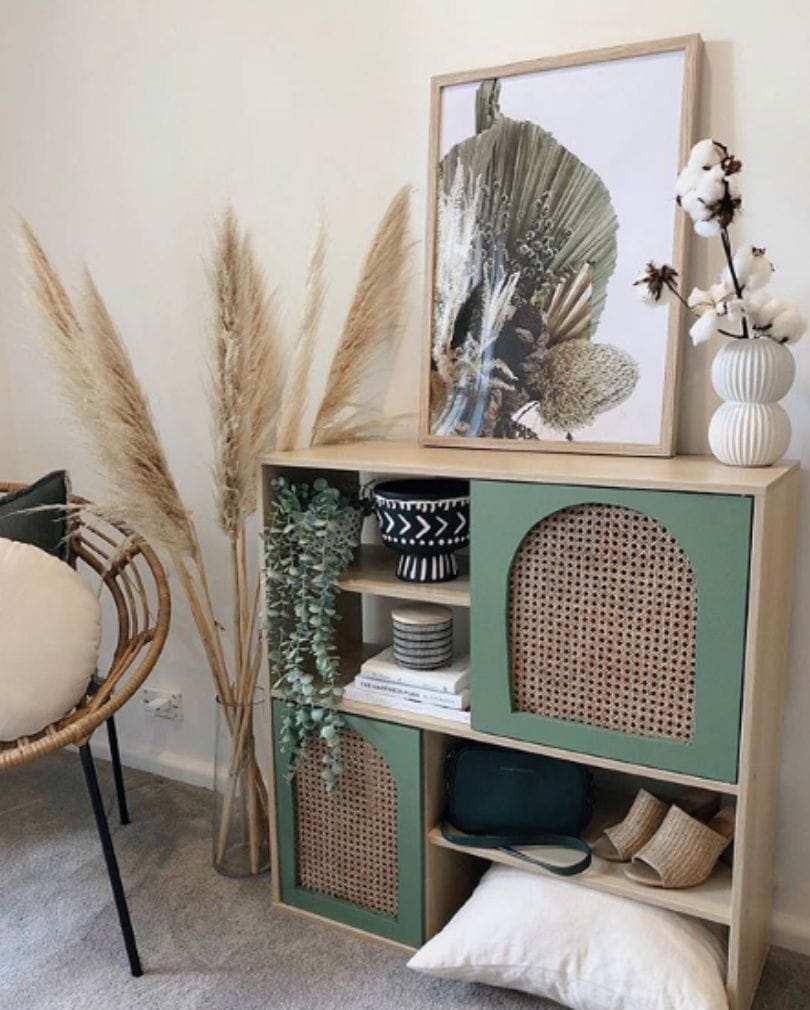 Photo: Via Sims Interior and Design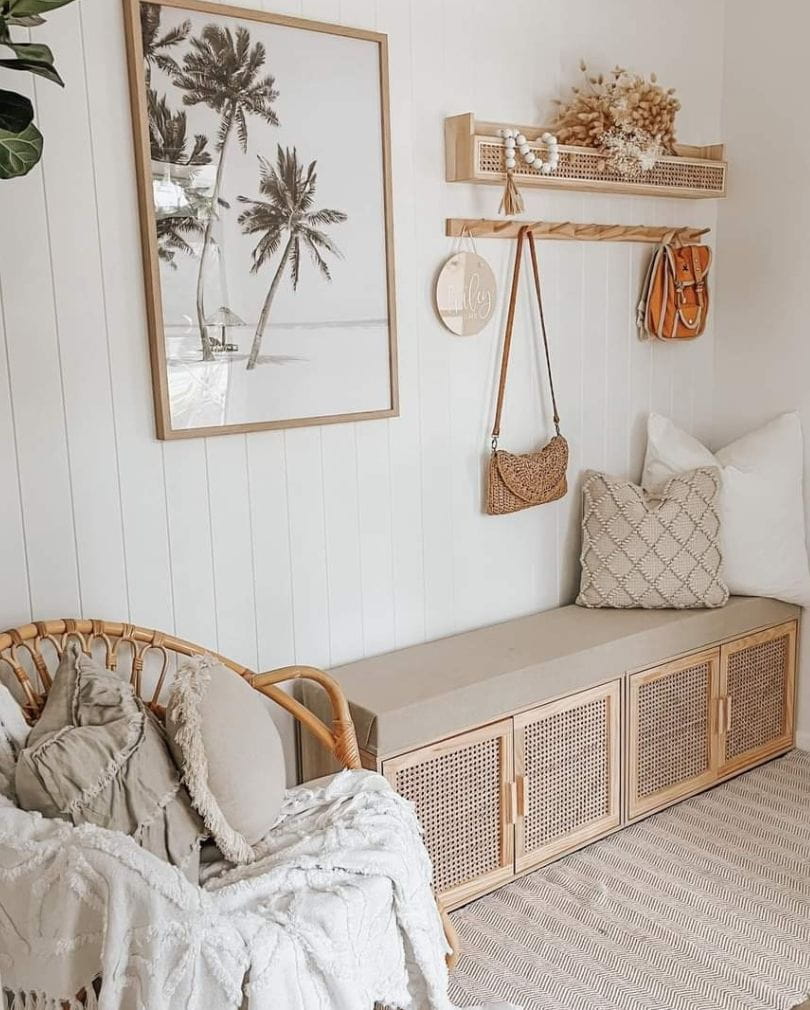 Photo: Via Taralee Fraley via Kmart hacks & decor Facebook page
You may know of an old piece of furniture sitting round, collecting dust. Or maybe there's something in your home that's looking like it needs just a little love. Upcycling is a great cost-effective way to gain new furniture. It's a hobby for those who see beauty in the good-for-nothings. And it's a side hustle for those wanting to make a little cash on the side, or even fulltime as some of our creatives have proved above.

Sometimes all our home needs is a little furniture facelift. We're all for it - make sure you send us photos your upcycled creations to keep the inspiration and creativity flowing!
Ready to connect?
Check out the connection process, to know what choices you'll need to make as part of getting connected to natural gas.
Submit your natural gas connection application today. Our customer team will then ring you to confirm a few more details and progress your application.
Want to know more?
If you've had a good look around our website and still have questions let us know what you'd like more information about.