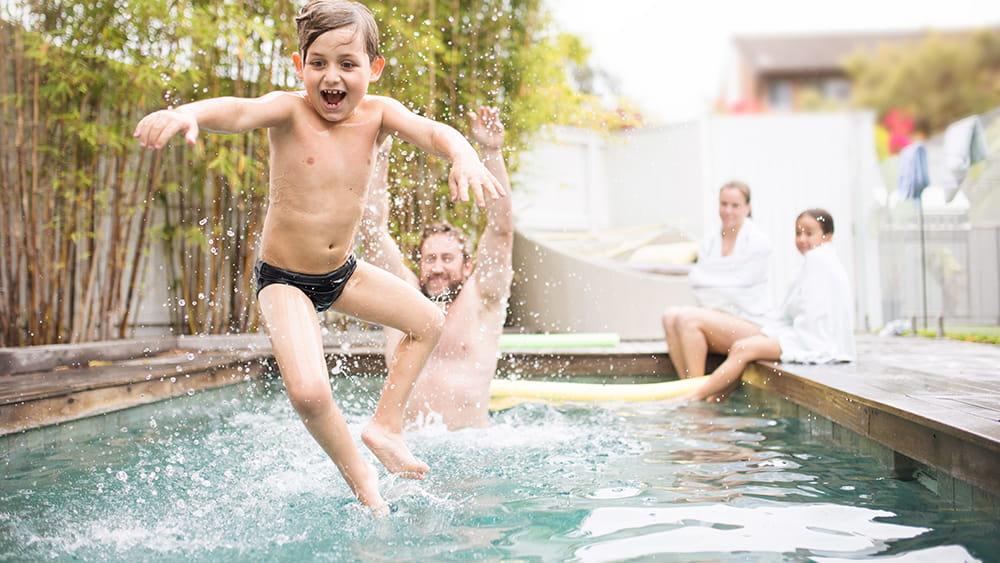 Pool party host
Natural gas is an excellent option for heating your spa or swimming pool. Why? Because heating is fast and on-demand when you need it, plus natural gas-powered pool and spa heaters and can easily maintain any temperature no matter the weather.
Plus if you're already using natural gas inside your home, you'll get energy for around one-third the standard unit price of electricity. The same goes for other outdoor gas appliances too. With high efficiencies up to 97%, gas systems are designed for durability and low maintenance.
Enjoy your role as the ultimate pool party host with your pool or spa heated by natural gas.
Further information
Are you based in Wellington, Taranaki, Manawatu or Hawke's Bay? You may be able to connect your home to gas for free with The Gas Hub.

Try our gas checker on the homepage for an instant result on whether you're within the free gas connection range!

We also have a very useful hot water cost comparison tool that compares upfront and running costs within our natural gas network regions. Find out whether a natural gas, electricity, LPG, or solar hot water system could be the right solution for you. Try our hot water cost comparison tool now.
Ready to connect?
Make sure you take a look at the connection process. It tells you what you'll need to make choices about as part of your natural gas connection.
Start your natural gas connection application. Our customer team will then ring you to confirm a few more questions.
Want to know more?
If you've had a good look around our website and still have questions let us know what you'd like more information about.