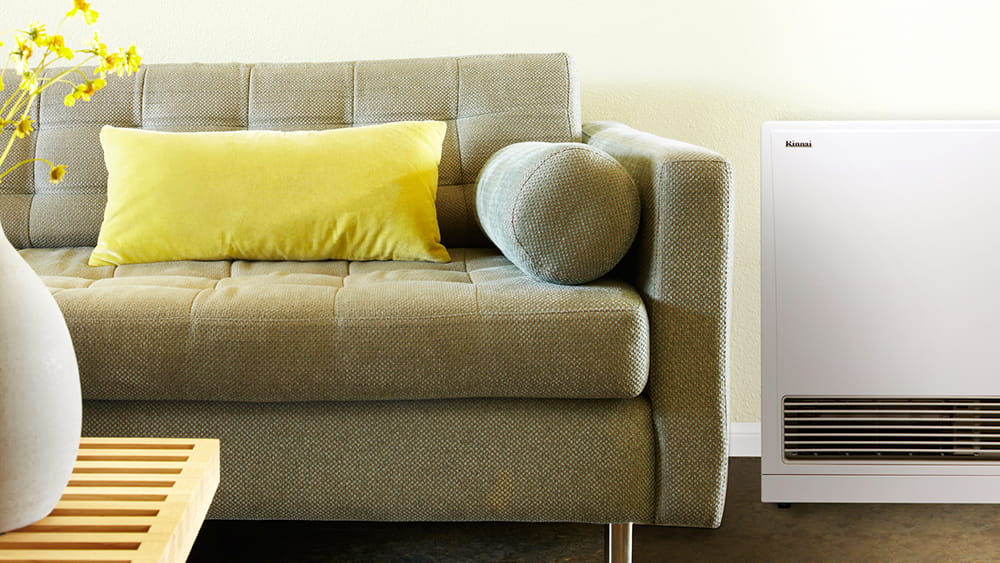 Compact and convenient space heaters
Rinnai manufactures the Energysaver range, designed to give you a powerful and reliable heating source at home. If you're connected to gas already, adding on a gas-powered space heater is simple and cost effective.
Easy, breezy and less wheezy
Installation is a breeze in most homes, and flued space heaters produce a dry heat that doesn't add moisture or dampness to your home. Rinnai's range of Energysavers come in different sizes so there's one to make every home toasty-warm.
The Energysaver gas heaters are approved by the Asthma + Respiratory Foundation NZ's Sensitive Choice programme and, unlike some heat pumps, natural gas space heaters perform strongly and reliably no matter how cold it is outside. Rinnai say their Energysavers will heat your home faster than a heat pump of the same output!
Tiny but mighty
Highly efficient with controlled warmth, you'll find that natural gas is so powerful that when it comes to space heating, a little goes a long way.
Energysavers are compact space heaters at floor level, so heat is distributed through whole areas quickly. They have dual timers so you can set the heater to turn off and on according to your schedule, and they can run in economy mode. Breathe easy with these compact space heaters and feel secure with smart safety features like the overheat safety device and child lock.
Gas-powered space heaters really are tiny but mighty!
Further information
Are you based in Wellington, Taranaki, Manawatu or Hawke's Bay? You may be able to connect your home to gas for free with The Gas Hub.

Try our gas checker on the homepage for an instant result on whether you're within the free gas connection range!

We also have a very useful hot water cost comparison tool that compares upfront and running costs within our natural gas network regions. Find out whether a natural gas, electricity, LPG, or solar hot water system could be the right solution for you. Try our hot water cost comparison tool now.
Ready to connect?
Make sure you take a look at the connection process. It tells you what you'll need to make choices about as part of your natural gas connection.
Start your natural gas connection application. Our customer team will then ring you to confirm a few more questions.
Want to know more?
If you've had a good look around our website and still have questions let us know what you'd like more information about.