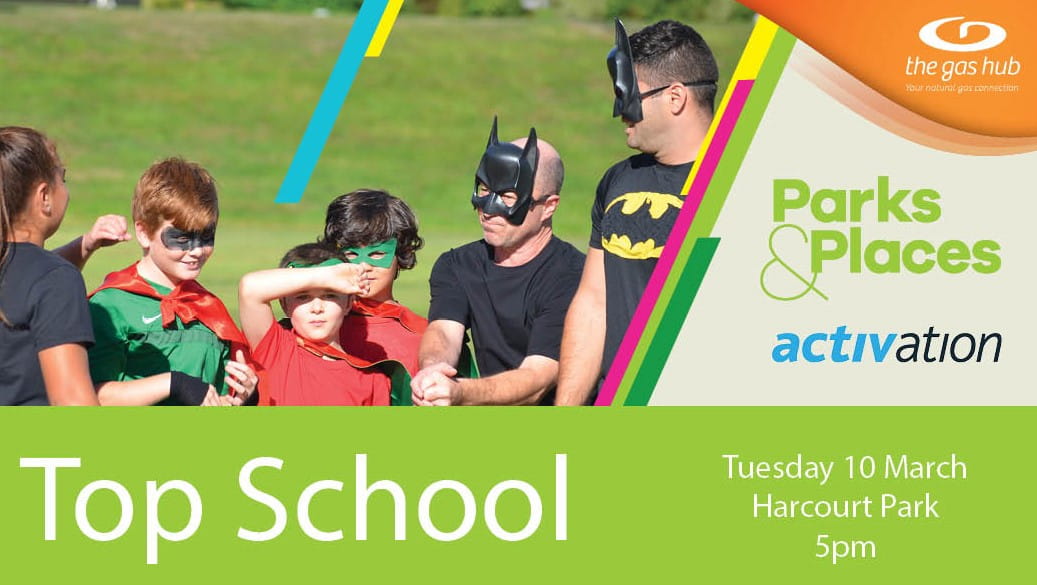 Who will be Top School? Fun for all the family!
Upper Hutt primary schools come out and battle for the title of Top School!
Bring the whole family and support your local school compete in a whole lot of crazy fun tasks as each school team battles against each other - part of the Parks & Places Summer Events. From the sideline you can enjoy activities for all ages including cardboard grass sliding, Activation's play pod and the Hungerball inflatable. There'll also be food trucks, coffee carts and ice creams for sale on site.
Come along a be part of your community with students, teachers and parents and enjoy the free entertainment. Also your chance to win be into WIN a continuous hot water package installed for free with The Gas Hub!
You'll find event information on our Facebook page or head to the Top School - Parks & Places website
Harcourt Park - Upper Hutt
Further information
Are you based in Wellington, Taranaki, Manawatu or Hawke's Bay? You may be able to connect your home to gas for free with The Gas Hub.
Enter your address in our gas checker for an instant result on whether you're within the free gas connection range!
We also have a very useful hot water cost comparison tool that compares upfront and running costs within our natural gas network regions. Find out whether a natural gas, electricity, LPG, or solar hot water system could be the right solution for you. Try our hot water cost comparison tool now.
Ready to connect?
Check out the connection process, to know what choices you'll need to make as part of getting connected to natural gas.
Submit your natural gas connection application today. Our customer team will then ring you to confirm a few more details and progress your application.
Want to know more?
If you've had a good look around our website and still have questions let us know what you'd like more information about.
16

Visit The Gas Hub at the Manawatu Home and Lifestyle Show 23-25 July in Palmerston North. Gold coin entry!

21

Share your emoji stories that tell us the best way to celebrate #WellingtonDay weekend! Terms & Conditions apply.

31

There has been plenty of talk surrounding the future of gas energy in New Zealand with the release of the Climate Change Commission draft report to Government. Some of you may have asked "is this the end for gas?"