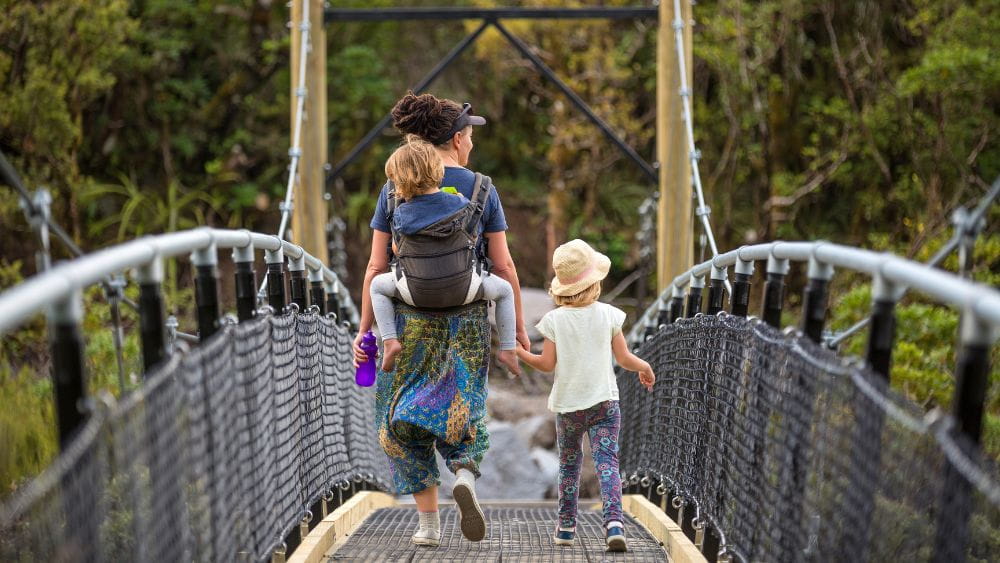 Walks you need to try this summer
Summer is a great time to get outdoors. It's warm, the cold winds have (mostly…) ceased for a season and we have undivided quality time with our loved ones.
Whether you've got holiday getaways planned or are just looking forward to having some downtime with no agendas, we encourage you to get out in the sun and go for one of these stunning walks!

Together as a whānau or on your own, make sure to lock one of these in. Sunshine, fresh air and some exercise are always an incredible mix and benefit to our bodies! Screens off, switched off time outdoors is always a win!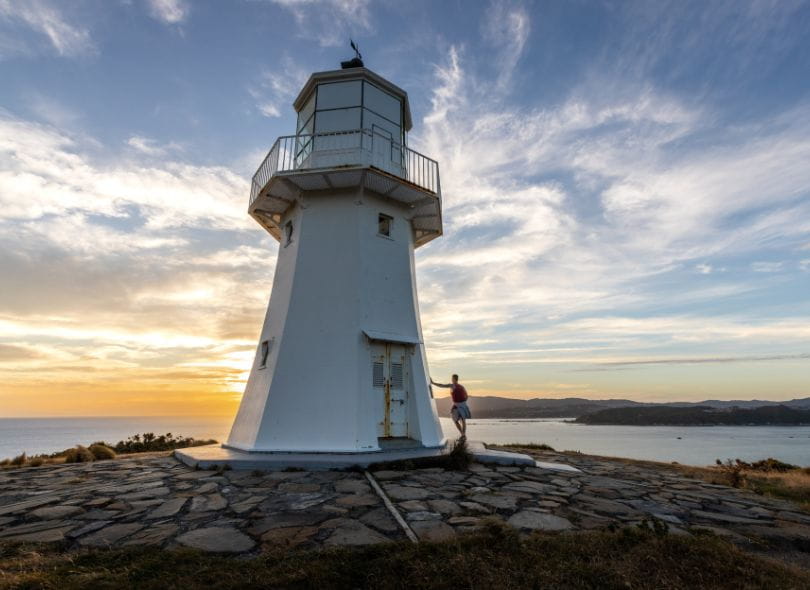 Photo: Pencarrow Light house, Wellington. Credit: Ryan O'Donnell and Heritage New Zealand Pouhere Taonga.
A 40-minute drive from Wellington, the Pencarrow trail begins at the end of Muritai Road/Burdan's Gate, Eastbourne. Pass through rocky beaches, rock pools and travel along a flat winding trail on a trip that will take 1.5 hours by bike or four hours return by foot. Beware this trail is infamous for its wind factor so make sure to pick a day with the least resistance. Trust us, it will make the journey along the stunning coastline much more enjoyable, and you may even see more wildlife on the way.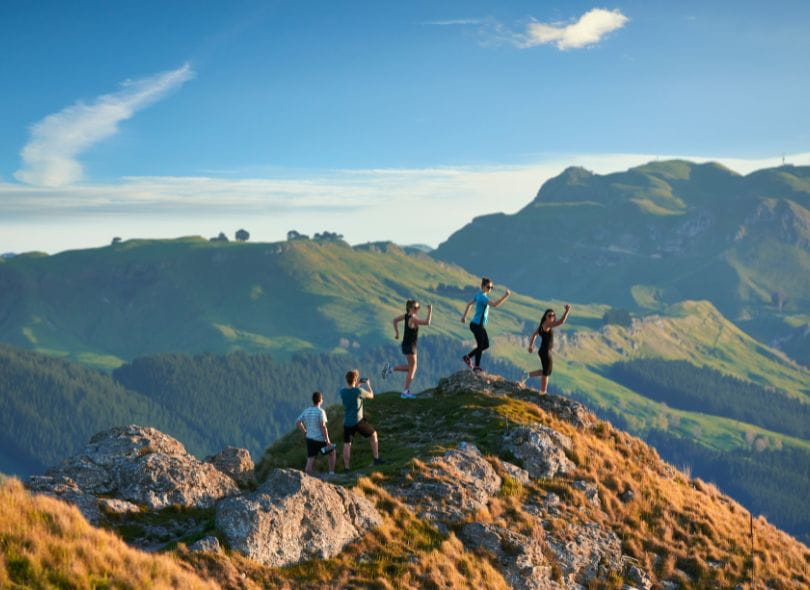 Photo: Te Mata Peak. Credit: Brian Culy.
Enjoy 360° views of Hawke's Bay. Spot the beautiful hill country as well as beautiful towns and ranges in the distance. Choose to run, walk or bike through 99 hectares of parkland tracks and stop in the spectacular Redwoods forest. Both long and short circuits are available; the longer ones taking about two hours with shorter ones signposted along the way.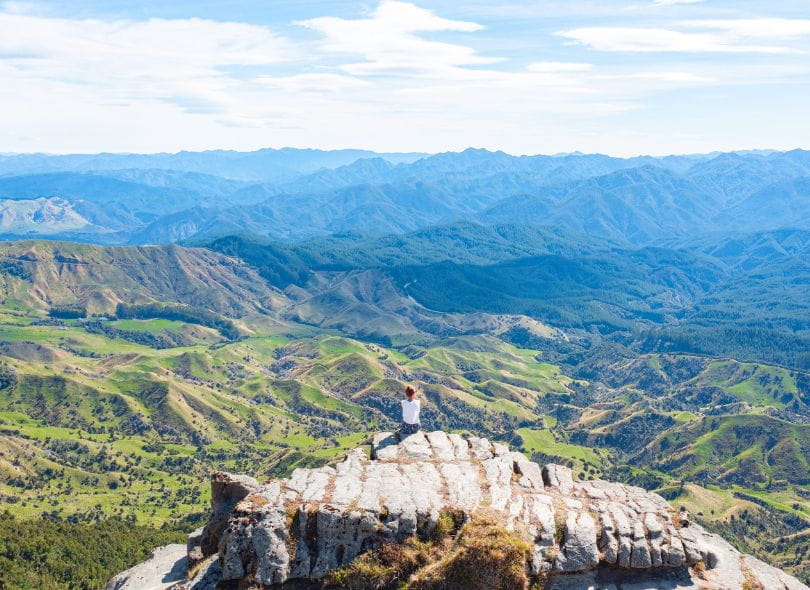 Photo: Bell Rock, Hawke's Bay. Credit:
Described as "the greatest walk you've never heard of", this 3-hour return track's treasure at the end is stunning views of Hawke's Bay. A medium intensity walk, this one will definitely be great for adults with decent fitness and children that have enough stamina to come with you. Surrounded by large numbers of Tūī, Bellbird and Kererū, you'll love this walk and all it offers.

Photo: DOC
This track in the beautiful Taranaki is great for families and can even be turned into an overnight trip with your children if you desire! A 90-minute walk through forest, across streams and the Waingongoro swing bridge will bring you down a short track that leads to the hut.

Fitted out with 16 bunk beds, this could be a great adventure for you and your close family friends to take together. On your way through you'll find lava-formed pools; the perfect way to break up the walk and cool off.

Whether you're looking for a fun day trip (make sure to pack a picnic!) or want an overnight experience, grab your packs and head out into nature for an unplugged experience that will bond your whānau under the sun this summer! Just make sure to pack your sunscreen!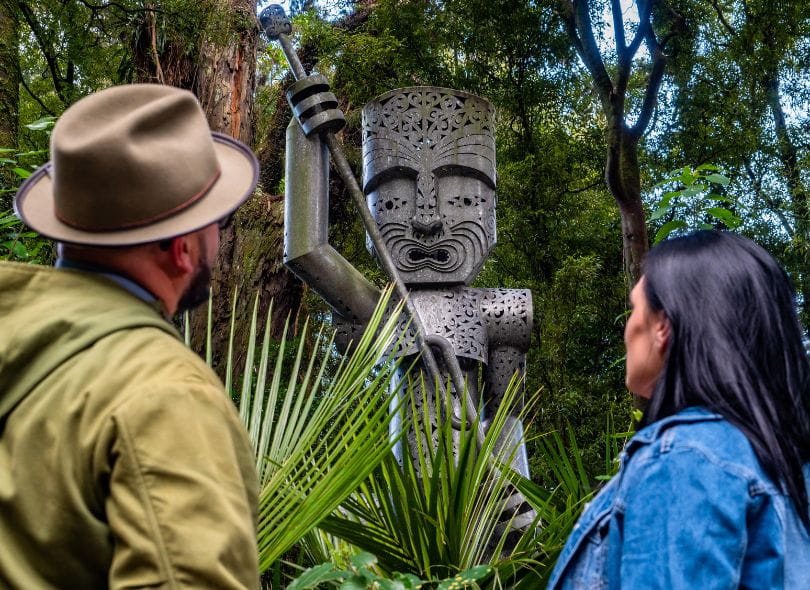 Photo: ManawatuNZ.co.nz
If you're in the Manawatū region, the Tawa Loop walk is one to add to your list!
It's found about 500m into the main Manawatū Gorge Track where it branches off into its own loop, meeting up with the main track again later on. Halfway around the Tawa Loop you'll find a lookout boasting beautiful views of Palmerston North.
Being 4.1km long and taking you roughly two hours to complete, this track is considered an easy walk, and is a great one to add to your list of "to do's" on a sunny day in the Manawatū.
If you're really keen to plan a great walk with your friends, the Tora Coastal walk in the heart of the Wairarapa is beautiful and in hot demand! The 2022-2023 season is already fully booked but you could plan a getaway with your loved ones for the 2023-2024 season if you desired!
Our stunning regions have so many beautiful walks on offer, helping us to get outside into nature in the warmer weather and get some quality time with our families. All the while doing great things for our own bodies and wellbeing. Make sure you check out one of these as the weather warms up and tag us in your photos!
Explore the Comfort Zone!
Ready to connect?
Check out the connection process, to know what choices you'll need to make as part of getting connected to natural gas.
Submit your natural gas connection application today. Our customer team will then ring you to confirm a few more details and progress your application.
Want to know more?
If you've had a good look around our website and still have questions let us know what you'd like more information about.