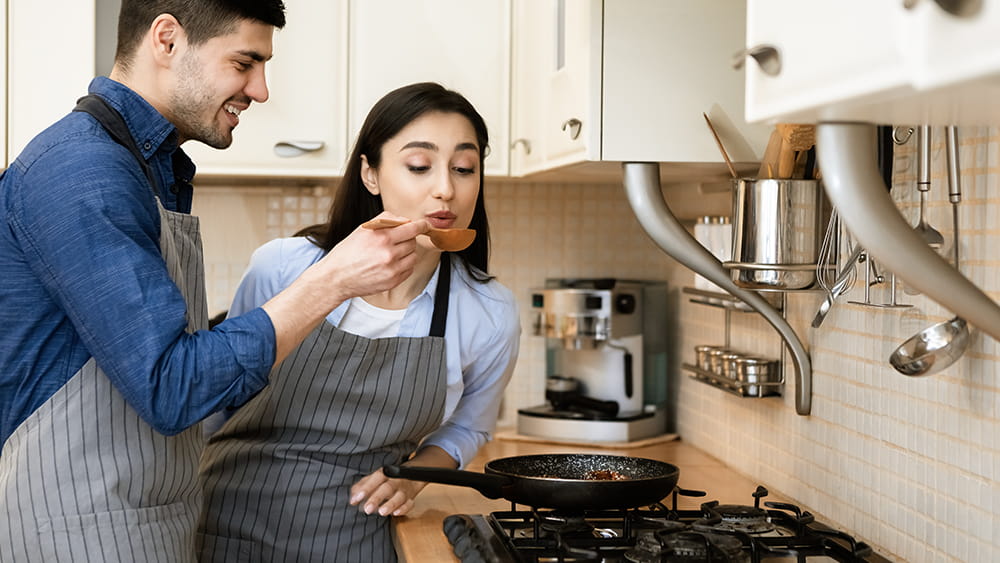 Number one in the kitchen
Ask any chef, and they'll tell you nothing compares to gas in the kitchen. Gas hob cooking delivers the ultimate control and precision, whether hot and fast or low and slow. Modern gas cooktops not only look great but ensure every meal is cooked to perfection. Learn why gas is still the number one choice in the kitchen.
Most chefs prefer to cook with gas, and for good reason. A gas cooktop gives you the speed, power and precision of visible heat to master any culinary dish, whether you're whipping up a one-pot wonder or a multi-course masterpiece.
Why choose gas in the kitchen?
Precise temperature control
Great for high-heat cooking
Good efficiency
50% cheaper to run than electricity (if you already use gas for hot water or heating)
Stylish, with varied designs and sizes of cooktop to suit any home – modern or traditional.
What about induction?
Staunch gas advocates initially may have turned their noses up at induction cooktops. Induction uses electromagnetism to heat and cook food while the surface of the cooktop remains cool to touch as there is no flame or direct transfer of heat.
You'll be interested to know that you can now get the best of both worlds with a combination (or dual fuel) gas and induction cooktop!
If you're pro-gas all the way, today's super stylish glass gas cooktops rival the style and ease of induction cooking with contemporary and minimalist designs, Gas or electric – the pros and cons of both – take a look at this must-read article!
Looking to add gas in the kitchen?
If you already use natural gas for your hot water or heating, it can be as simple as buying a new gas cooktop and having it installed by a gasfitter. You might also be surprised to know that it costs about 50% less than cooking with electricity if you already use natural gas in your home.
What does the future of gas look like?
It's clear that gas is a great option to energise your home kitchen right now and for the decades to come, but what will the chefs and home cooks of the future use as we transition to be carbon neutral by 2050? They'll likely be using new low or zero emission gases like hydrogen and biofuel. The good news is that we're already 90% ready to send these new gases down the pipes to energise Kiwi homes and businesses. Find out more about the future of gas.
Ready to connect?
Check out the connection process, to know what choices you'll need to make as part of getting connected to natural gas.
Submit your natural gas connection application today. Our customer team will then ring you to confirm a few more details and progress your application.
Want to know more?
If you've had a good look around our website and still have questions let us know what you'd like more information about.