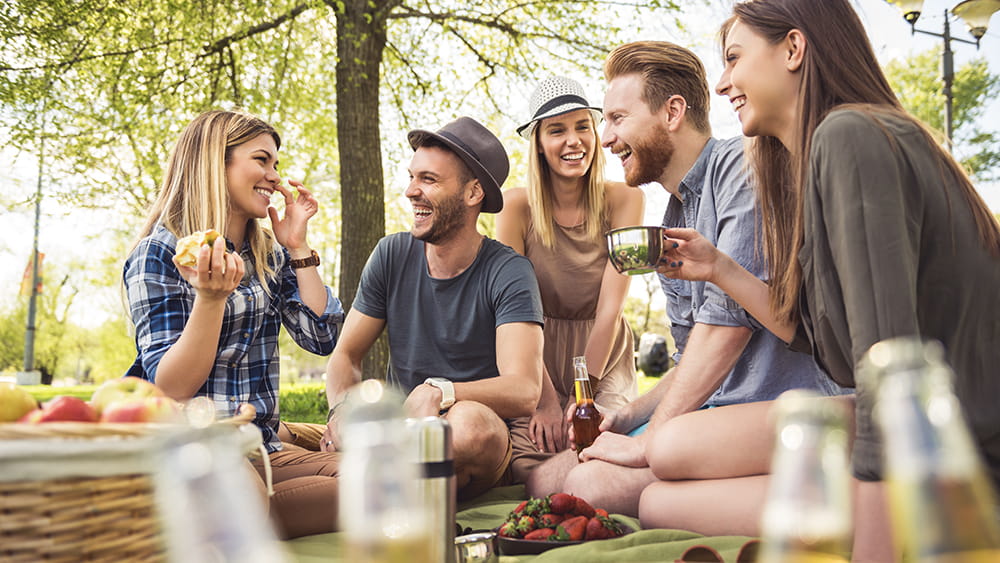 Picnics are the new party
Outdoor catch ups are the way to go right now in these Covid times. No longer just for the oldies or kids, here are some ideas and inspiration for hosting a picnic your friends will be raving about the morning after.
Gather up the games
If lying about just isn't your thing, why not gather up some games and make things a little more active. There are some great outdoor games to play from the classics like tug-of-war, egg and spoon, sack or three-legged races to the new classics like Kubb, giant Jenga or Ultimate Frisbee.
Ditch the day and embrace the night
Think fairy lights and candles, cocktails and canapes. Put together your favourite play list and pack your most luxurious rugs and cushions. Dress up glam and head out for an after dark picnic.
Brunch on a Blanket
Eggs, bacon and coffee are the perfect outdoor food so instead of the big breakfast why not make up some delicious egg and bacon butties, grab a takeout coffee from your favourite local and head to the park or beach for your next brunch date.
Picnic Blind Date
With bar-hopping and packed dance floors a lot less appealing why not make picnics the new meet-up? Invite all your single friends and stage your own picnic-for-six or speed-picnic?
Our Favourite Picnic Eats
Here are a few of our favourite picnic classics from some of our favourite Kiwi foodies – Annabel Langbein's Bacon and Egg Pie, Nadia Lim's Cacao Nut Butter Fudge Brownies , Ruth Pretty's Chicken & Rocket Club Sandwiches and Robert Oliver's Ota Ika (Tongan Ceviche). We also love the look of this show stopping Summer watermelon Punch.

Browse the Comfort Zone!
Ready to connect?
Check out the connection process, to know what choices you'll need to make as part of getting connected to natural gas.
Submit your natural gas connection application today. Our customer team will then ring you to confirm a few more details and progress your application.
Want to know more?
If you've had a good look around our website and still have questions let us know what you'd like more information about.