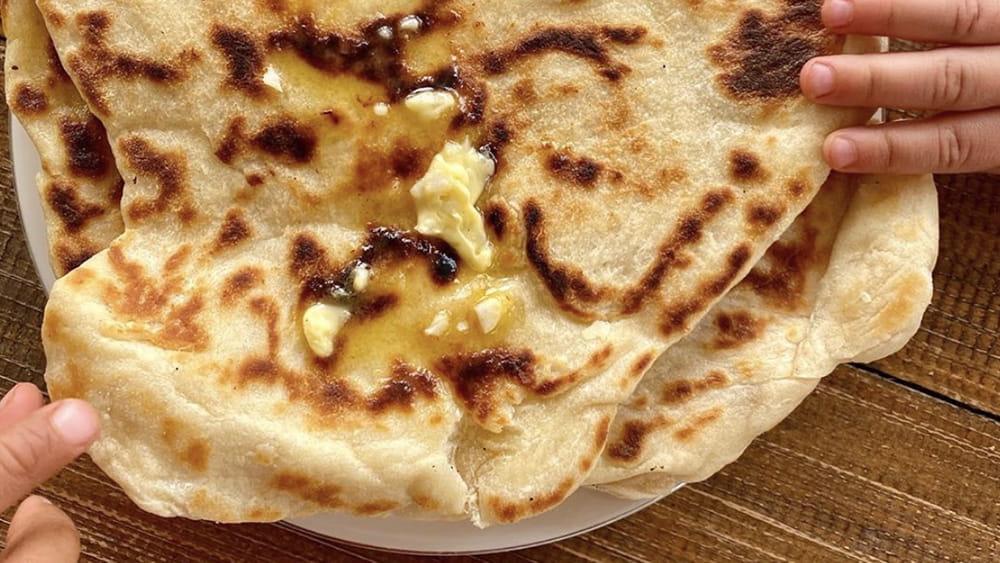 Nadia lims flatbread
A great recipe for turning into naan to enjoy with a curry, a wrap Middle Eastern style, or a (non-traditional but still awesome) pizza base.
What you need:
2 cups self-raising flour (or plain flour with 2 teaspoons baking powder added)
3/4 cup milk, or plain yoghurt or water
1.5 Tablespoons olive oil (or any oil)
1/4 teaspoon salt
Other 'nice to haves' are butter, garlic, fresh herbs (but not essential!) to make a garlic n' herb butter to spread on.
Here's how you do it:
Place flour, milk, oil and salt in a bowl and mix to combine.

Knead on a lightly floured surface for 5 minutes or until dough is smooth. Divide into 4-6 portions and leave to rest on the bench for 10-15 minutes or so.
Heat a large, heavy-bottomed skillet or fry pan on medium heat. Roll each piece of dough out into a roughly 25cm circle, lightly brush with a little oil. Place in a hot pan and cook for about 2 minutes each side or until puffed and golden. If you're using garlic and herb butter, spread it on while the bread is hot. Repeat with remaining dough.
To find out more about the benefits of cooking and entertaining with gas, check out our clever kitchen creations page.
Ready to connect?
Check out the connection process, to know what choices you'll need to make as part of getting connected to natural gas.
Submit your natural gas connection application today. Our customer team will then ring you to confirm a few more details and progress your application.
Want to know more?
If you've had a good look around our website and still have questions let us know what you'd like more information about.