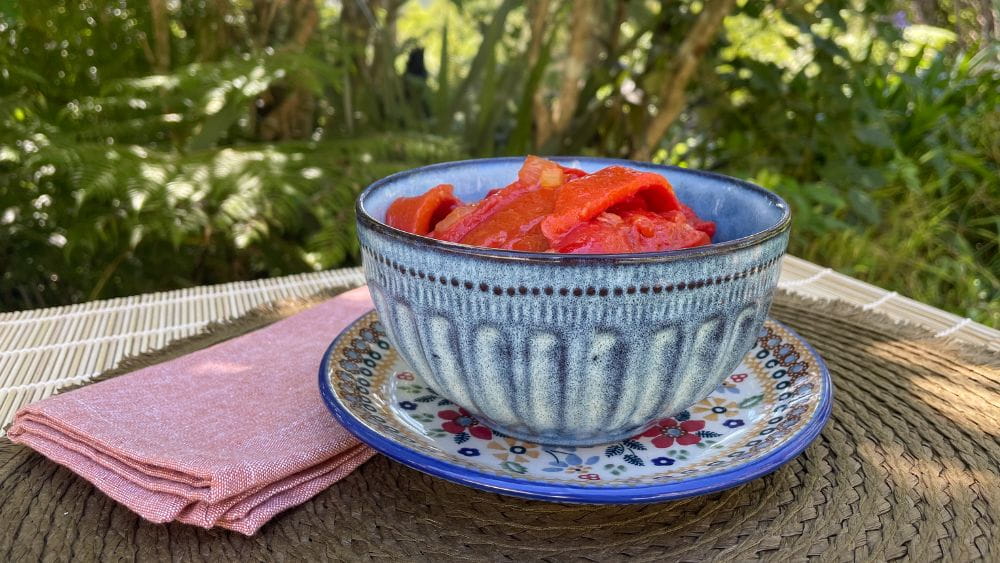 Bbq capsicum salad
Our team at The Gas Hub love a good BBQ, our Marketing Advisor, Bec has shared her favourite summer recipe – BBQ Capsicum Salad – with us.
Barbecued capsicums tossed together with onions, garlic and tomatoes – this salad will become your summer go to. The beautifully charred capsicum on the BBQ brings a depth of flavour while making them soft and sweet.
"Our whānau has been making this salad for years and is a firm family favourite. A classic Italian salad, better known as Peperoni in Padella it is great as a side for your next BBQ. It's also perfect on a cheese platter, added to a sandwich and it makes a great pizza topping. It also freezes really well. What's not to love?"
With gas flowing well into the future you'll be able to cook this BBQ recipe for years to come.
Serves 4 hungry people or 6-8 as a side.
4 firm, juicy capsicums (of any colour, we've used red)
4 tablespoons olive oil
1 large brown onion
3 cloves of garlic
1 can diced tomatoes
Cook the capsicums whole on the barbecue grill, turning until the skins blacken and start to blister. Depending on the temperature of the BBQ this takes approx. 20-30 minutes.
Once they are done, pop them into a plastic bag and tie the top to trap in the air. Allow them to cool slightly, just enough so you can handle them. This helps the skins lift off easily.
Peel the skins off under cold running water.
Cut the capsicums in half and remove the seeds and membranes. Then, cut each half into about six strips. The size of the strips is completely up to you and how chunky you want the salad to be.
Heat the olive oil in a large pan and fry the onion and garlic over a medium heat until the onion is soft.
Add the can of tomatoes and simmer for about 10 minutes. Add the capsicums and season with salt and pepper. Simmer for a further 20 minutes, stirring frequently.
Serve hot or cold.
Win a gourmet BBQ hamper with the future of gas
Gas is a great resource for entertaining and energising your home and life, and you'll be happy to know that gas will continue to flow well into the future as New Zealand moves towards low or zero-carbon gas.
To inspire your gas cooking, we're giving away four gourmet BBQ hampers, valued at over $650, to gas lovers in Wellington, Taranaki, Manawatū, Horowhenua and Hawke's Bay. Just answer three simple questions about the future of gas and be in to win the ultimate BBQ at your place!
Ready to connect?
Check out the connection process, to know what choices you'll need to make as part of getting connected to natural gas.
Submit your natural gas connection application today. Our customer team will then ring you to confirm a few more details and progress your application.
Want to know more?
If you've had a good look around our website and still have questions let us know what you'd like more information about.