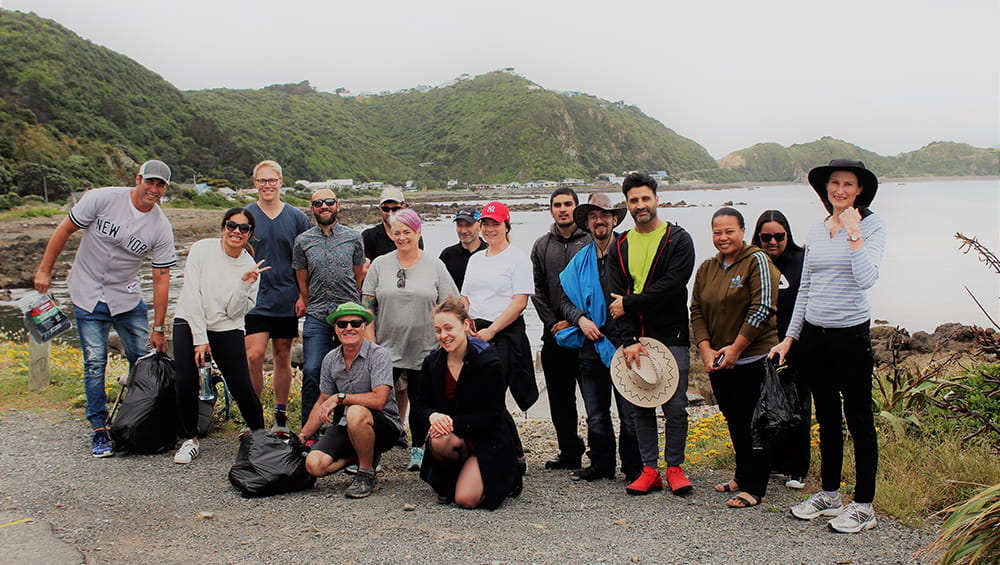 Wellington office hits the beach
Powerco and The Gas Hub's Wellington office recently bunked off to the coast for an afternoon ahead of the Christmas break.
This wasn't your regular lazy afternoon spent sunning or swimming. Rather, it was a beach combing activity picking up rubbish along the shoreline and roadside, followed by a charity quiz.
With the smell of fresh salty air and the Bluebridge Cook Strait Ferry cruising past, a team of around 30 donned rubber gloves and grabbed a rubbish bag. Drawing similarities to the jolly red man filling a sack full of fun presents, the challenge was on to find the most exciting piece of trash.
Scrambling around the rocks of Wellington's infamous Breaker Bay, playing 'is that plastic or paua shell?' the crew thankfully didn't come across any naked bathers.
Some interesting finds along the coast line included a bathtub nestled amongst some trees. Probably not trash, but strategically placed presumably for evenings of star gazing while listening to the waves lap at the shore.
One of the crew stumbled upon a rusted car engine, while another found a car key strategically poking out of a piece of driftwood. Not quite as rusted as the car engine, it was assumed this placement was "an attempt to reunite the key with the owner".
Clean up complete, the team headed down to Miramar's aptly named GasWorks establishment for refreshments and a brain-stretching quiz.
Bribes were accepted, and answers could be bought for a cost – and many were. The team raised over $100 for Challenge 2000, a Wellington-based charity committed to helping youth who require extra support through a variety of development programmes (read more here: https://www.challenge2000.org.nz)
Unofficial 'camp leader' Ric Barbiellini said, "given that so much of the work we do is for the community, the general feeling was it was nice to get out of the office and give directly, even if in a small way."
A final activity is organised where the office has been invited to declutter their lives by auctioning any unwanted items on TradeMe. All money raised from the auctions will go to Challenge 2000 and TradeMe have kindly waved their set-up fees.
Contact us if you'd like to help support Challenge 2000 also!
Further information
Are you based in Wellington, Taranaki, Manawatu or Hawke's Bay? You may be able to connect your home to gas for free with The Gas Hub.
Enter your address in our gas checker for an instant result on whether you're within the free gas connection range!
We also have a very useful hot water cost comparison tool that compares upfront and running costs within our natural gas network regions. Find out whether a natural gas, electricity, LPG, or solar hot water system could be the right solution for you. Try our hot water cost comparison tool now.
Ready to connect?
Check out the connection process, to know what choices you'll need to make as part of getting connected to natural gas.
Submit your natural gas connection application today. Our customer team will then ring you to confirm a few more details and progress your application.
Want to know more?
If you've had a good look around our website and still have questions let us know what you'd like more information about.
21

Share your emoji stories that tell us the best way to celebrate #WellingtonDay weekend! Terms & Conditions apply.

31

There has been plenty of talk surrounding the future of gas energy in New Zealand with the release of the Climate Change Commission draft report to Government. Some of you may have asked "is this the end for gas?"

16

Visit The Gas Hub at the Manawatu Home and Lifestyle Show 23-25 July in Palmerston North. Gold coin entry!