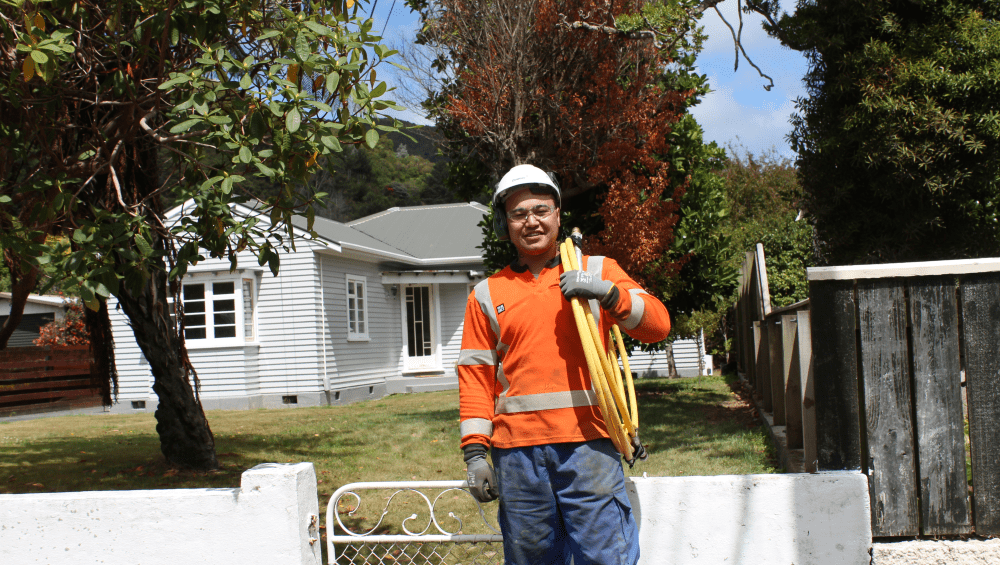 Getting connected is easy
20 April 2020
Getting connected is easy when you've got natural gas in your street, but did you ever wonder what happens on the day?
Maybe you have decided or are still deciding to have natural gas in your life? If so, you probably have a lot of burning questions like; do I have to be home on the day, will you dig up my flower bed, can I chose where my meter goes?
Well, meet Jen who shares her natural gas and renovation journey with us; while checking out our team at work in the background.
You may also wish to check out our frequently asked questions here, or if you are building or renovating - make sure we are part of your planning process and find out more here.
Looking to connect? Start your connection enquiry today here.
Further information
Are you based in Wellington, Taranaki, Manawatu or Hawke's Bay? You may be able to connect your home to gas for free with The Gas Hub.
Enter your address in our gas checker for an instant result on whether you're within the free gas connection range!
We also have a very useful hot water cost comparison tool that compares upfront and running costs within our natural gas network regions. Find out whether a natural gas, electricity, LPG, or solar hot water system could be the right solution for you. Try our hot water cost comparison tool now.
Ready to connect?
Check out the connection process, to know what choices you'll need to make as part of getting connected to natural gas.
Submit your natural gas connection application today. Our customer team will then ring you to confirm a few more details and progress your application.
Want to know more?
If you've had a good look around our website and still have questions let us know what you'd like more information about.
16

Visit The Gas Hub at the Manawatu Home and Lifestyle Show 23-25 July in Palmerston North. Gold coin entry!

15

Get active this summer with The Gas Hub at Parks & Places and be in to WIN!

Imagine the luxury of continuous hot showers! Come along to one of the fun events in Upper Hutt between January to March 2020 and pick up your exclusive promo-code. Available Wellington, Hutt Valley & Porirua only.

9

For the fourth year running The Gas Hub is partnering with Upper Hutt City Council's Activation team to bring you The Gas Hub's Parks and Places.

From 10 January through to the end of March 2019, a jam-packed calendar of fun activities for all ages is planned.