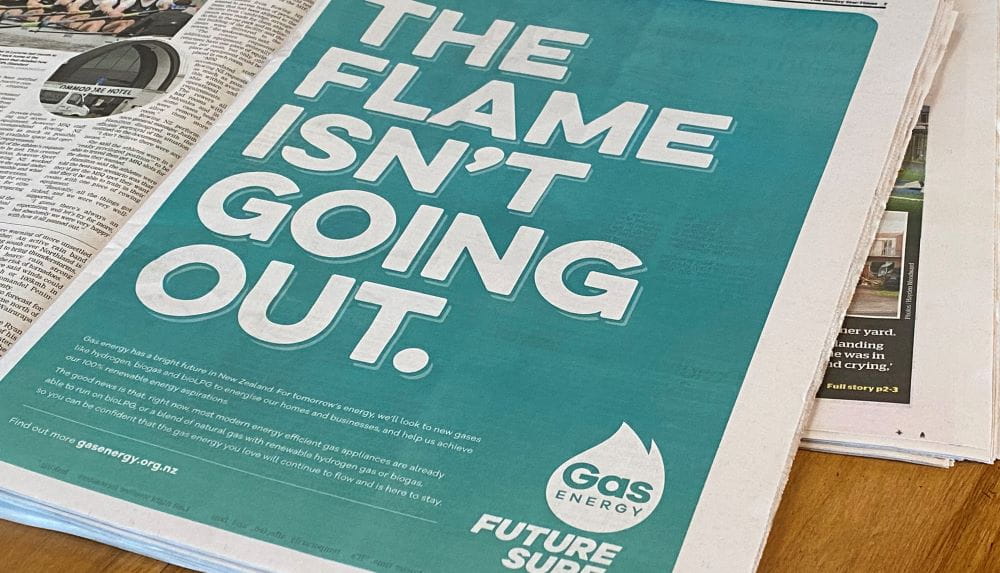 Gas energy is here to stay - gas industry launches future sure campaign
MEDIA RELEASE
Gas Energy is Here to Stay - Gas Industry Launches Future Sure Campaign
Wellington, Friday 18 June 2021 – New Zealand's gas industry is today launching its Future Sure campaign, giving Kiwis confidence that gas energy will continue to flow well into the future.
The campaign supports the Climate Change Commission's recent and final recommendations to decarbonise New Zealand's economy to meet the country's 2050 climate change commitments. Future Sure represents the gas industry including, distributors, retailers, appliance manufacturers and a number of other partners.
Cameron Jardine, Future Sure spokesperson, says tomorrow's gases – like renewable hydrogen gas (generated from water), are already being developed or trialed in New Zealand and will allow Kiwis to continue to enjoy gas energy in their lives.
"More than 450,000 households and businesses use gas every day. If you use gas for cooking, heating, or manufacturing, our message is the flame isn't going out. If you own an appliance that uses today's gas, you can use it in confidence for the rest of its expected lifetime," Jardine says.
"Most of New Zealand's gas pipe network is compatible with future gases. Testing shows most modern appliances are compatible with blends of low carbon renewable gases and can currently take up to a 20% renewable hydrogen gas blend with natural gas. Blending gases will be an important part of our journey as we scale towards a more renewable future. LPG appliances are already compatible with bioLPG as it is chemically identical to existing LPG".
Globally, tomorrow's gases are being developed in Asia and Europe. In New Zealand, the industry is working with partners to develop the technology to transition to future gases.
"We want Kiwis to understand that while gas energy is changing, it's here to stay. Trials to move to future gases are already underway. We're getting ready for the future - currently, we're working to begin blending tomorrow's gases into the natural gas network from 2025," says Cameron Jardine.
Future Sure partners support the Commission's advice that the Government develops a national energy strategy to give the sector and consumers confidence about the transition to low carbon renewable gases.
"A national energy strategy will support the industry to build future technologies and invest in infrastructure and development of these crucial gases, ensuring continuity of energy supply for all New Zealanders.
"In the meantime, we want to start the conversation about the future of gas - how the flame isn't going out and how future gases will get us there; consumers can continue to use gas energy with confidence," says Cameron Jardine.
ENDS
About Future Sure

Future Sure is an industry group representing New Zealand's gas sector, consisting of 29 contributing members, including retailers, distributors, appliance manufacturers and suppliers, gasfitters, and training organisations. It is working to inform consumers that the gas they turn on isn't being turned off and advocate for the sector as it moves to a low carbon renewable gases future. You can find out more information at
gasenergy.org.nz
For more information:
Jacinda Thorn, Public Relations | 027 397 0616 |
jacinda@thornpr.co.nz
Further information
Are you based in Wellington, Taranaki, Manawatu or Hawke's Bay? You may be able to connect your home to gas for free with The Gas Hub.
Enter your address in our gas checker for an instant result on whether you're within the free gas connection range!
We also have a very useful hot water cost comparison tool that compares upfront and running costs within our natural gas network regions. Find out whether a natural gas, electricity, LPG, or solar hot water system could be the right solution for you. Try our hot water cost comparison tool now.
Ready to connect?
Check out the connection process, to know what choices you'll need to make as part of getting connected to natural gas.
Submit your natural gas connection application today. Our customer team will then ring you to confirm a few more details and progress your application.
Want to know more?
If you've had a good look around our website and still have questions let us know what you'd like more information about.
16

Visit The Gas Hub at the Manawatu Home and Lifestyle Show 23-25 July in Palmerston North. Gold coin entry!

21

Share your emoji stories that tell us the best way to celebrate #WellingtonDay weekend! Terms & Conditions apply.

31

There has been plenty of talk surrounding the future of gas energy in New Zealand with the release of the Climate Change Commission draft report to Government. Some of you may have asked "is this the end for gas?"