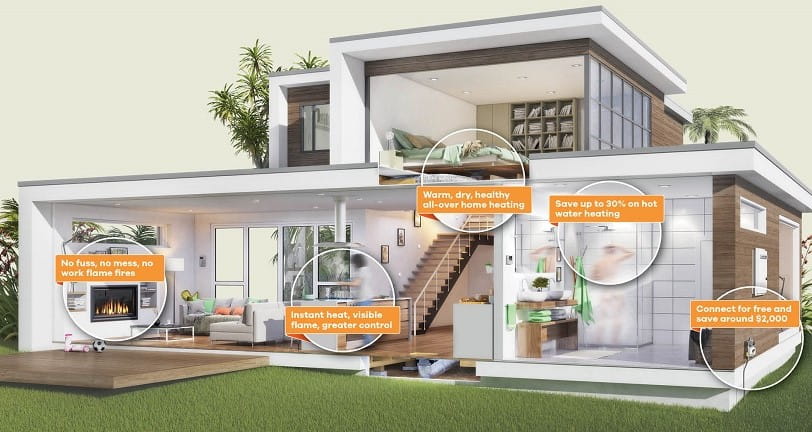 Did you know?
Natural gas can power 70% of your home's energy needs
You can optimise your gas connection by connecting your hot water, heating and cooking all to gas and reduce your energy bills. From instant, continuous flow hot water to luxurious, warm and healthy heating or fast precision cooking; natural gas can make your home feel better all over.
Did you know that you can save up to 30% on hot water heating with natural gas?
Continuous flow systems mean the shower will always be hot when it's your turn! Heat only the water you need, enjoy unbeatable water pressure, while gaining valuable storage space.

Gas cylinders work well on low or mains pressure and you'll have hot water during a power cut.
Did you know thatheating accounts for around one third of your energy bill? Natural gas is highly efficient and delivers warm, dry and healthy heat. Choose from:
Central heating ducted through floor or ceilings offers luxurious warmth

Radiators or underfloor heating are great for allergy suffers

Gas fires give you no fuss and no mess ambience without the wood stacking

Flued heaters offer space efficient, dry heat that work no matter how cold it is outside
Did you know if you are already using natural gas in your home, it will cost you about 50% less than cooking with electricity? The choice of professional chefs:
Instant heat

Visible flame

Greater control
You'll be doing your bit towards a more sustainable New Zealand
Did you know, that Kiwis using piped natural gas directly in their homes, produce less than 1% of New Zealand's total greenhouse emissions? These homes also are helping to ease the dependency on using coal or natural gas electricity generation during peak times like winter, when lake and wind levels are low and renewable sources are not enough to supply household demand.
Further information
Are you based in Wellington, Taranaki, Manawatu or Hawke's Bay? You may be able to connect your home to gas for free with The Gas Hub.
Enter your address in our gas checker for an instant result on whether you're within the free gas connection range!
We also have a very useful hot water cost comparison tool that compares upfront and running costs within our natural gas network regions. Find out whether a natural gas, electricity, LPG, or solar hot water system could be the right solution for you. Try our hot water cost comparison tool now.
Ready to connect?
Check out the connection process, to know what choices you'll need to make as part of getting connected to natural gas.
Submit your natural gas connection application today. Our customer team will then ring you to confirm a few more details and progress your application.
Want to know more?
If you've had a good look around our website and still have questions let us know what you'd like more information about.
21

Share your emoji stories that tell us the best way to celebrate #WellingtonDay weekend! Terms & Conditions apply.

31

There has been plenty of talk surrounding the future of gas energy in New Zealand with the release of the Climate Change Commission draft report to Government. Some of you may have asked "is this the end for gas?"

16

Visit The Gas Hub at the Manawatu Home and Lifestyle Show 23-25 July in Palmerston North. Gold coin entry!