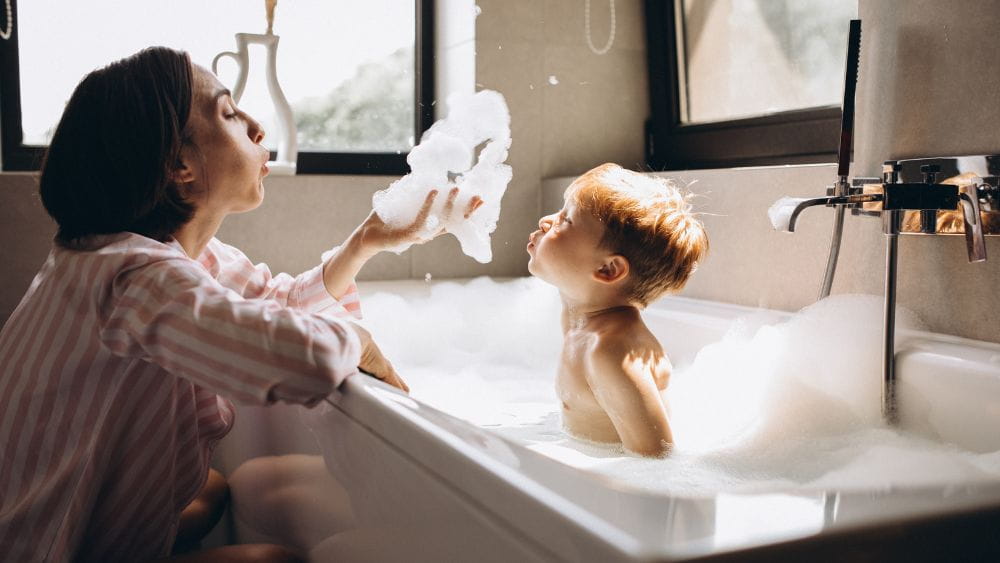 Fun bath time ideas for kids
Bath times have come a long way since we were little – gone are the days mum would sit us on a plastic non-slip mat and add some dishwashing liquid for bubbles!
Here are our favourite ways to bring your children's bath time into 2023, with a focus on eco-friendly products and the best way to heat and use your water.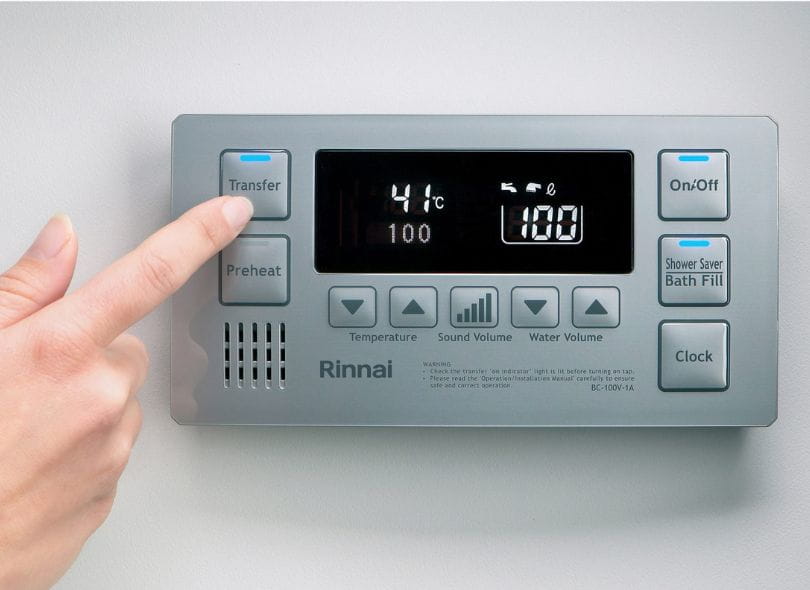 Stress free temperature
Running the bath just got even easier! Gas hot water creates less stress when it comes to getting the right temperature. Plus, if you have a controller, you can set your hot water at a temperature safe for little ones. You can even set the bath water level and temperature to fill and stop when done!
Gas hot water also allows you to take advantage of some fantastic products like this Bathroom Deluxe Controller. The controller allows you to set the maximum temperature which is not only a safety bonus but is also more efficient for your energy bill. Did you know the default hot water temperature is 55 degrees without controllers? Try switching this down to 40 degrees, which will use less gas to reach the desired temperature. It also means you don't need to mix hot and cold water, meaning you avoid that annoying temperature spike when other taps in the household are used at the same time. Win, win.

The above is referencing instant gas hot water systems.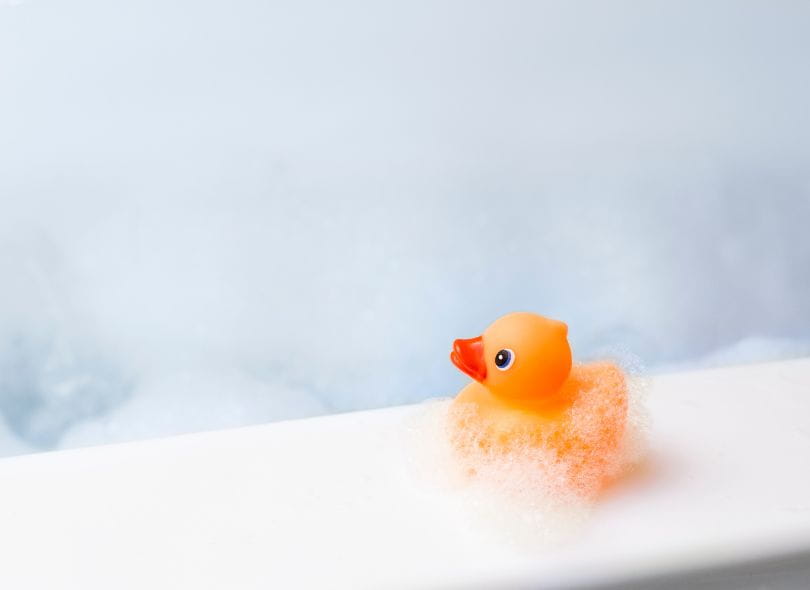 Choose the right toys
Although the classic yellow ducky still has its fans, there are now many wonderful eco-friendly toys on the market which not only offer fun and educational aspects, but also avoid any nasties leaching out into the water and onto your kiddies. You could try this Natural Rubber Duck instead, made from 100% natural rubber from the Hevea tree, and made using non-toxic, food-grade paints. Bonus – there are no seals or holes which avoids any mould or mildew build up.
When compared to plastic, silicone can withstand higher temperatures and it doesn't disintegrate into tiny pieces and is also BPA and toxin-free. We love these silicone Origami Bath Toys, a set of three boats that are soft and easy for little hands to hold.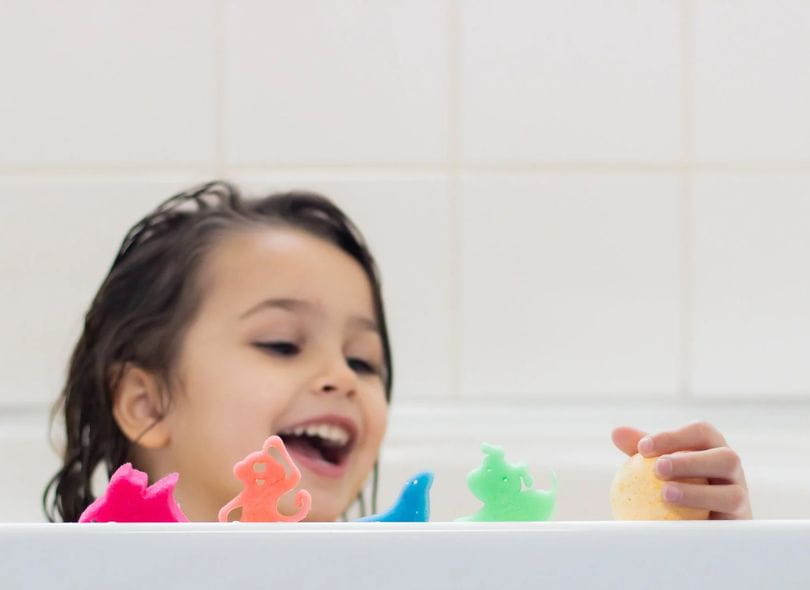 Credit: Babylovenz.com
Add some colour
Bath crayons offer a way to get creative with your little ones. We love Honeysticks Bath Crayons made in New Zealand using 100% beeswax, soy wax, and plant-based emulsifiers to avoid all the nasties. Feel like going one step further? Colour the bath water with bath bombs! We like the sound of these fun Bath Sprudels which are hand-made, non-toxic and contain only food-grade ingredients making them safe for children to enjoy. They won't stain your bath - or your children! Our pick would be Dino Egg bath bombs which also contain a hidden sponge toy once the bath bomb dissolves.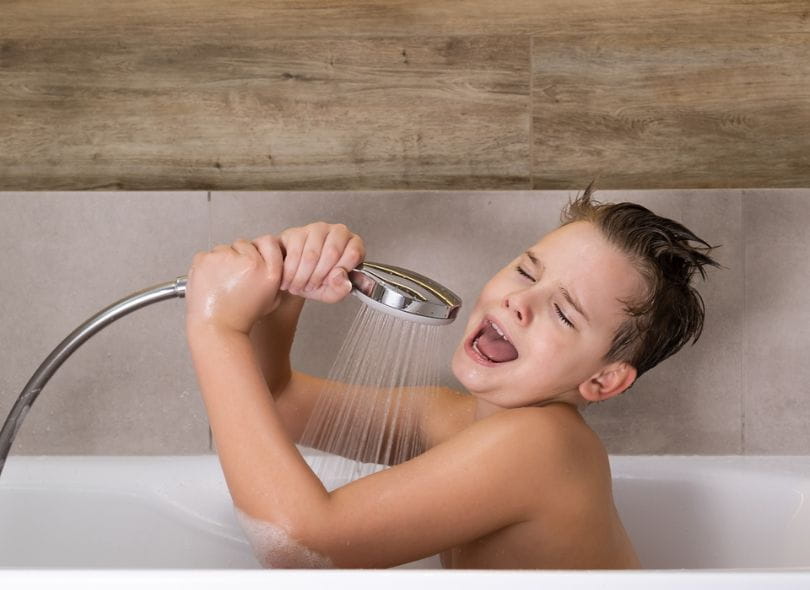 Set the mood with music
We've curated our favourite bath time songs – to help encourage younger children who may resist bath time as they'll begin to associate bath time with the fun, positive feelings that this fun music creates, and for the older children they'll love singing along. What's your kids bath time favourite? Let us know if we haven't included it and we'll add it to our playlist.
There are so many ways to make the most out of bath time. By focusing on creating a fun atmosphere and using eco-friendly, non-toxic products, you and your kiddies can enjoy bath time every time.
Choosing natural gas is an effective way to heat water for your home and also provides peace of mind for water temperature safety around kids. With gas hot water your whānau will enjoy a perfectly heated bath, and you'll be happy to know that gas will continue to flow well into the future as Aotearoa moves towards low or zero-carbon gas.
Which bath time ideas will you be trying tonight?
Ready to connect?
Check out the connection process, to know what choices you'll need to make as part of getting connected to natural gas.
Submit your natural gas connection application today. Our customer team will then ring you to confirm a few more details and progress your application.
Want to know more?
If you've had a good look around our website and still have questions let us know what you'd like more information about.