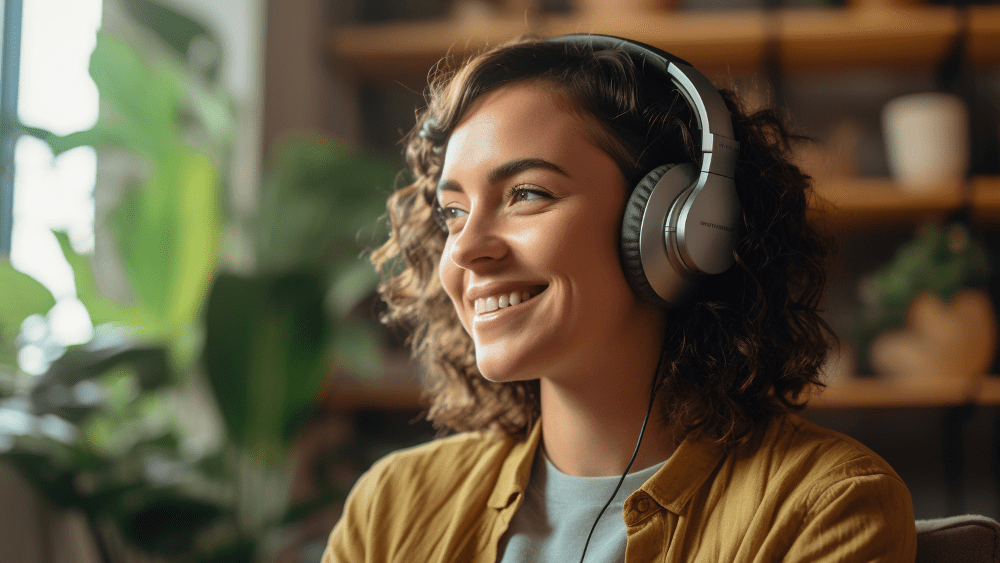 Tune in: Nine podcasts to listen to
In the thick of the digital age, the opportunities to learn and glean from others are limitless. Podcasts are one of the most effortless ways to learn while on the go; you can tune in while walking the dog, working at your desk, doing the dishes, or driving your car.

But with over five million podcasts to choose from, how do you pick a new favourite or even get started? We've compiled a list of some of our favourite podcasts from New Zealand and abroad that we think are worth a listen.
The Aotearoa History Show
The Aotearoa History Show is a part-animated web series highlighting New Zealand's history from millions of years ago to today. With a collection of 14 episodes, each about 30 minutes long, you'll enjoy the learning experience hosted by Radio New Zealand's Māori Issues Correspondent Leigh-Marama McLachlan and William Ray from the popular Black Sheep podcast.

Listen here: YouTube and Radio New Zealand (RNZ) website.
This Climate Business
Hosted by Vincent Heeringa, This Climate Business is all about opportunity. Interviewing entrepreneurs, investors, and experts each week, Vincent dives into what is being done to solve the climate crisis and how to get us down to zero emissions by 2050!

Listen here: Apple Podcasts and Spotify.
Taringa
With over 300 episodes to its name, the Taringa podcast is all about helping you learn about Te Ao Māori. If you want to learn more about Māori culture and in particular te reo Māori, you may enjoy these episodes. With a mix of Māori and English spoken throughout the show, Taringa describes their show as "the perfect way to learn te reo and tikanga Māori in a fun and relaxed way".

Brought to you by Te Wānanga o Aotearoa, one of New Zealand's largest tertiary education providers, you'll be sure to learn something tuning in.

Listen here: Apple Podcasts and Spotify.
Our Changing World
The Property Academy
One Day You'll Thank Me
Presented by The Herald and hosted by mothers Jenni Mortimer and Rebecca Haszard, One Day You'll Thank Me tackles topics on the minds of many parents today.

There are currently multiple seasons of weekly episodes. Partnering with special guests and expert commentary, you'll be invited into a space of open and honest conversations about the big-picture issues as well as the more minor details that are on the minds of New Zealand parents.

Listen here: Apple Podcasts, iHeart and Spotify.
Everyday Māori
No Such Thing As A Fish
Based out of the UK, No Such Thing As A Fish is a weekly podcast in which researchers Dan Schreiber, James Harkin, Anna Ptaszynski and Andrew Hunter Murray share the most bizarre facts they've discovered over the last seven days for a British comedy panel game quiz show.

The multi-award-winning show, which launched in 2014, has become a cultural phenomenon, releasing over 400 episodes and bringing in over 400 million listens to date. Spotify has even named it one of the Top Podcasts of the Decade (2010-2020).
So popular, the show has been made into three books ("The Book of the Year 2017, 2018, and 2019), a BBC2 series No Such Thing as The News, a behind-the-scenes documentary (The Gills) and performs to live sold-out audiences in the UK and beyond.
Listen here: Apple Podcasts, Spotify, YouTube Music and wherever you get your podcasts.
Off Menu
Ready to connect?
Check out the connection process, to know what choices you'll need to make as part of getting connected to natural gas.
Submit your natural gas connection application today. Our customer team will then ring you to confirm a few more details and progress your application.
Want to know more?
If you've had a good look around our website and still have questions let us know what you'd like more information about.