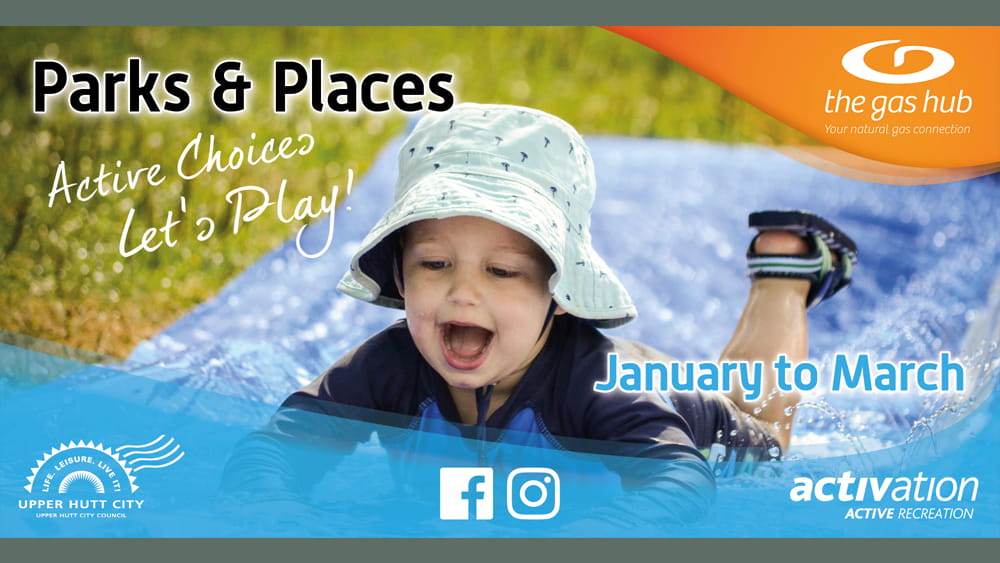 Let's Play!
For the fourth year running The Gas Hub is partnering with Upper Hutt City Council's Activation team to bring you The Gas Hub's Parks and Places.
From 10 January through to the end of March 2019, a jam-packed calendar of fun activities for all ages is planned. The events will showcase some of Upper Hutt's finest places and spaces, giving anyone and everyone the opportunity to make active choices and having fun playing!
Highlights this year include the family water day, Bike the Trail, Cardboard Chaos and the always popular Paws in the Park regional events.
A new addition to Parks and Places in 2019 is The Gas Hub's Hydration Station. Keep hydrated and save on plastic destined for the landfill by bringing your drink bottle along and refilling at The Gas Hub's Hydration Station. You'll find this free water station at most major Parks and Places events.
Hot tip: be one of the first 200 visitors to The Gas Hub's Hydration Station at Bike the Trail and score yourself a free water bottle. The Gas Hub will have a big tub of sunscreen on hand to make sure you're not only hydrated but also sun smart for the ride.
When: Sunday 3 March
Where: start of the trail at Harcourt Park
Come and play with us! We look forward to seeing you out there.
You'll find event information on our Facebook page, and for the events calendar head to the Activation website.
Read the media release.
Further information
Are you based in Wellington, Taranaki, Manawatu or Hawke's Bay? You may be able to connect your home to gas for free with The Gas Hub.
Enter your address in our gas checker for an instant result on whether you're within the free gas connection range!
We also have a very useful hot water cost comparison tool that compares upfront and running costs within our natural gas network regions. Find out whether a natural gas, electricity, LPG, or solar hot water system could be the right solution for you. Try our hot water cost comparison tool now.
Ready to connect?
Check out the connection process, to know what choices you'll need to make as part of getting connected to natural gas.
Submit your natural gas connection application today. Our customer team will then ring you to confirm a few more details and progress your application.
Want to know more?
If you've had a good look around our website and still have questions let us know what you'd like more information about.
16

Visit The Gas Hub at the Manawatu Home and Lifestyle Show 23-25 July in Palmerston North. Gold coin entry!

31

There has been plenty of talk surrounding the future of gas energy in New Zealand with the release of the Climate Change Commission draft report to Government. Some of you may have asked "is this the end for gas?"

13

Given the vital role gas and its infrastructure play in the New Zealand economy, it is crucial to understand the options for gas in the changing policy environment.

– Vivid Economics, Dec 2018